Is your practice struggling to effect positive change? If you've been trying to implement a new EHR, move phones away from the front desk, or get proactive about checking insurance eligibility, you know that change sometimes fails even with the best intentions.
We know we should streamline and even automate our processes, giving us time to focus on achieving our long-term goals. But starting a project to change our workflow or implementing a new system can seem like an immense undertaking when measured against the daily work of caring for the health of children and families.
In our professional lives, it's easy to focus on doing what's in front of us at the expense of engaging in change that will make a big impact in long run. But, by following a few simple steps, we can exponentially increase our likelihood of success.
#1 Make a Plan
Change can be hard. But having a clear plan in place helps your office think through the realistic application of what you're aiming to do. If you want to move phones away from your front desk to improve face-to-face communication with families, it helps to know who your telephone service provider is, and how long it will take them to reroute lines to your back office. Your plan can - and will - change, but starting with an idea of how to get from where you are to where you're going increases your chances for success.
#2 Pick The Right Leader
If you're going to start using a new EHR, who's in charge of communicating with your vendor? Who picks the hardware? Who decides whether you're going to start scanning charts now or later? Choose someone reliable, time-oriented, and able to see the big picture even when working out the details. The person who owns your plan can delegate, communicating with others to make sure important details don't slip through the cracks. The bank of new laptops is not much good if there aren't enough charging stations in the exam rooms and between rooms - and without a backup or two, a laptop crash can result in a very full waiting room, meaning disappointed parents and lost revenue for your practice.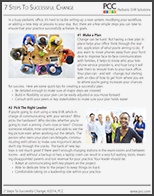 Interested in learning more? Read the rest of our seven steps here.
White Paper Download Form: 7 Steps to Successful Change