What's your plan for your independent pediatric practice when you retire?
Don't have one? You're not alone. Effective succession planning, also called legacy planning, is an often-overlooked task yet it's an essential aspect of the business of pediatrics.
Succession planning is important for more than just the far-off dream of retirement. What happens if you have an unexpected health issue and can't practice anymore? Since anything could happen at any time, a good rule of thumb is to have a 'business continuity' plan in place from the start.
According to an article from MGMA,
"Retirement is not the only reason to have a plan. As we all age we become more susceptible to health problems that could take us out of the work force or greatly reduce our abilities to perform at the capacity we are accustomed to. While it may be easy to dismiss this possibility, especially if the individual is healthy, accidents can happen to anyone without warning. Failure to create an effective succession plan can result in disastrous consequences, destroying everything that a physician has worked so hard to build. And it is not just calamitous for the physician. When you stop and consider all the individuals, patients, employees, and partners who are dependent on a physician the importance of this type of planning begins to set in."
There's no hard and fast rule for how to do succession planning. Each practice and pediatrician is unique, and you need to determine what works best for you. According to Medical Economics,
"A practice has much less value at the 'last minute,' and the last minute will sneak up on you faster than you suspect… Planning before a transition is on the horizon is beneficial because it helps avoid decision- making based on individual agendas and instead causes everyone to think in terms of what is best for the practice."
Whether you plan a few years or a few decades ahead of time, the important thing is to plan. For this post, we sat down with one of PCC's practice management consultants as well as two clients, to hear their stories and advice.
According to Chip Hart, PCC's Director of Pediatric Solutions,
"Pediatrics is a relationship business. Pediatricians want to make sure their patients and staff are left in good hands and that the practice continues on with someone who is the right fit."
Because of those strong ties, it's unlikely an independent pediatrician will retire without taking the time to ensure the future care of their patients and the ongoing success of the practice – and that means finding the right buyer.
Know Your Buyer
Chip says that in general, there are two types of buyers:
a fellow independent pediatrician going out on their own after being part of a group practice or someone fresh out of medical school
a hospital or health system
There are, of course, exceptions, but these scenarios are the most common. Each of these buyers stands to gain something different from the purchase of your practice.
A hospital or health system purchasing your practice is getting the benefit of a built-in patient base. A hospital has the budget to support the overhead, hiring, and technical needs that come with acquiring a new business. They also have another important feature: lucrative insurance contracts. But they have a hard time growing a patient base. Why else would a hospital be interested in purchasing a pediatric practice? Picture this: a parent wants their child to see a specific pediatrician, so they sign on with an insurance carrier that is accepted by the practice. Now the whole family is covered by that insurance. And when the hospital purchases the practice, anyone in the family who needs to be seen at the hospital is now a patient. So, a hospital is looking at this as a way to dramatically increase their reach – through this purchase they will potentially acquire both the pediatric patients and their family members.
If the buyer is another independent pediatrician, it's likely they'll be bringing patients with them, so although a built-in patient base is desirable, it's not the primary selling point. Independent pediatricians are interested in the opposite of what the hospital wants; namely, a solid business infrastructure. These buyers will look to benefit from your location, equipment, built-in staff, and the insurance contracts that have already been negotiated just to name a few things.
Once you decide who your buyer will be, you need to determine the terms of your sale. It's nearly impossible to apply one formula to every practice, but according to Chip Hart, there are a few key variables in place with every practice and you're selling adjustments to those numbers. Those variables include: overhead, dollars per visit, and total visits.
Chip provides the following general example of how to determine the selling price of a practice:
"Say you're open 50 weeks a year, 4 days a week and you see 20 patients per day for those 200 days. If you average $140 per visit for those 4,000 visits, that's $560,000 per year. If your overhead is 60%, you take home 40%, or $224,000."
He continues, "If you're selling to another pediatrician, you are basically selling them the ability to get to those 4,000 visits per year faster because you are saving them the considerable time it takes to find a location, hire staff, choose an EHR, etc. Your price reflects the question, 'How long would it take you and what would it cost you to find, rent or lease, and set up a new space?'"
Chip adds, "With a hospital, on the other hand, the practice's overhead is a tiny drop in their bucket. They are looking at your practice and seeing that it generates 600K and runs at a 224K profit after overhead. If they choose to then employ a pediatrician to run it at a 150K salary, they can squeeze 70K out of it right away."
In addition to determining a selling price, Chip lists other factors to consider when creating your succession plan:
Hire someone to value your practice instead of or in addition to using a formula on your own
Make sure all of your plans are in writing. Hire legal counsel and don't rely on a promise and a handshake.
Get your insurance contracts cleaned up – they stay with your practice, so the buyer will likely inherit them. Excellent payer contracts are a good selling point.
Start planning as soon as you go into business. It's never to early to make a plan. Ideally, you'll bring a partner on to work with you during the transition phase, rather than sell and disappear.
Be aware that if you are working in an underserved area, it may be hard to find a replacement. If you are not in a highly sought-after location, you may end up selling to a hospital as it can be difficult to find independent pediatricians who will want to move there to take over the practice.
Before you dive into the details, it can be helpful to brainstorm a list of goals, wishes, or concerns for your practice after you leave. Identify what you want to remain the same (e.g., staff is not laid off) and what you don't mind changing. This can give you a jumping off point for more detailed planning.
There are many ways to transition from working full time as an independent pediatrician to being fully retired. Let's look at how two independent pediatricians created their succession plans.
Planning After a Lifetime of Experience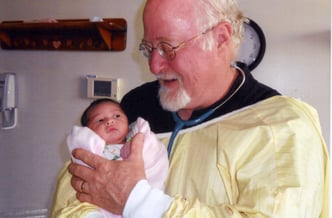 Dr. Thomas Moseley spent his pediatric career at the helm of Newport Pediatrics in Newport, VT. Dr. Moseley began his solo practice as the only pediatrician in two counties in 1982. He came to Vermont's Northeast Kingdom, a rural shortage area, to fulfill a National Health Service Corps obligation but he stayed on well beyond his required timeframe.
Over the course of his career he built the practice into a Level III Primary Care Medical Home, recruited a second pediatrician and a PNP, and instituted several innovations including a full time social worker, a part-time nutritionist, a part-time asthma educator, and a consulting relationship with a child psychiatrist. He employed 14 other people, most of whom had been with him for 8 plus years, and some for 15 years. Dr. Moseley shared,
"At the time I retired, we were the pediatricians for about half the youth of Orleans County and did most of the high-risk hospital work since we were on the hospital campus and the other pediatricians were 9 and 23 miles away respectively."
For all the above reasons, Dr. Moseley wanted to make sure that his patients would not be left in the lurch and that his staff would all keep their jobs and have a soft landing whether he sold to another pediatrician or to the hospital.
Dr. Moseley started thinking about the succession planning process about three years before his actual transition in 2015. He had hoped to sell his practice to another pediatrician, either a partner who would want to take the practice over or to a new pediatrician who would want to move to the area and set up shop in this established practice. He says,
"I had been recruiting, hoping that bringing in another pediatrician would advance the opportunity to retire, but finding a competent person who wanted to live in the Northeast Kingdom and make less money than many other places with more call was a nonstarter."
When it became clear that neither of these options was in the cards, he started negotiations with the local hospital.
During this phase, Dr. Moseley drew on the expertise of various consultants, including an attorney who worked with health care organizations and had dealt with physician group mergers and buyouts, and his long-term accountant who prepared a valuation of the practice based on a cash flow model. This provided a benchmark that could be used in negotiations with the hospital.
Speaking about this process, Dr. Moseley says, "Because I was selling, my major effort was to achieve 3 goals:
Continuity of good pediatric care.
A good salary and seniority for the employees who would now work for the hospital.
A good financial deal that represented the true value of the practice."
In the end, Dr. Moseley sold the practice to the local hospital. Speaking about the negotiation process, he shares, "The hospital started from the position that the practice was worth only the depreciated book value of the assets and an appraised value of the real estate, about 2/3 of what it was worth as a going enterprise. Since there were no other serious buyers for the practice, they had the upper hand. We went through a prolonged negotiation, in which I had developed a figure for the practice and building, derived from my accountant's cash flow valuation and a real estate appraisal."
"In this day and age, hospitals are loath to pay for 'good will,' or the value of the practice as a business entity. The hospital initially balked at paying anything for the practice apart from the hard assets, but saw the light when they realized that no one, least of all themselves, wanted to have to deal with 2500 doctorless patients at once."
He continues, "We eventually arrived at a settlement where they paid me more than they wanted and about 89% of what I wanted. They paid me for the hard assets at a generous valuation and they paid me a full-time salary for the last 18 months of my employment where I worked one day a week and performed other duties for the rest of the time. I was quite satisfied with how that worked out."
Commenting on what would have happened if the hospital didn't buy the practice and he had just closed up shop instead, he adds, "The fact that the hospital was the only buyer was counterbalanced by the reality that in our small community, they are really the only healthcare resource and would have been stuck with a much more expensive alternative of beginning to provide pediatric care from the ground up without the staff that was working for me, and probably without the other pediatrician and nurse practitioner."
Once an agreement was reached, Dr. Moseley continued to work full-time for the first 6 months, then part-time for 6 months, and then per diem, which he still does on occasion. He says,
"I found the transition year invaluable in saying goodbye to patients, transitioning some older patients to new physicians, and seeing that my medically complex patients were as squared away as I could manage."
When asked what his advice would be to other pediatricians starting to work on succession planning, he says,
"Start at least 3 years in advance of the day you want your last patient encounter. There are too many things that won't run on the timetable you think. Ask yourself: 'Do I have enough saved for retirement? What am I going to do when I retire?' You need those questions well thought out. Secondly, if you're in a hurry, you're going to accept things you don't want to. And you need to give yourself even more time to find a replacement if you're in a rural area."
He continues, "There is much that is unique to my case, but the fact that I needed, and got, a lot of expert help (well worth their fees I should add) is the principle thing that is generalizable to others. The second thing I would say is that I was aided by having clear goals and a concrete idea of what would constitute a win for me and the practice. I feel that by having an idea of what I wanted, not limited to a particular dollar amount, I was able to undergo the several year process in an orderly way and can say that I was mostly satisfied."
Setting Goals Right From the Start
Now for an example of a pediatrician who took a different path with succession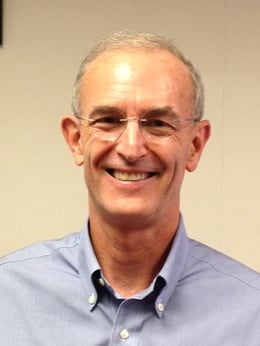 planning. Dr. Brian Patterson is a founder of Patterson and Tedford Pediatrics in Atascadero, CA. Speaking with him about succession planning, you can see that it's not something he has waited to do during the final years before retirement – it's something that he has infused into the fabric of his practice from day one.
Dr. Patterson trained in Buffalo, NY and completed his residency and internship in L.A. In 1979 he moved to California's Central Coast to join a large multi-specialty group practice. When the practice went out of business just 4 or 5 months later, Dr. Patterson suddenly found himself with 2 small children, a wife, a mortgage, and no job. Fortunately, the other two pediatricians that had been working with him there decided to join him in starting a private practice. It must have been terrifying at the time, but in retrospect he laughs and says, "It was 1980. We decided on private practice and none of us knew anything! We inherited some equipment, each invested $1000, and learned how to post and code – we got thrown right into the fire!" Luckily the administrator of the clinic, who also administered the local hospital, had a wealth of experience and he offered sage advice. And that was, "Start a retirement plan now."
Looking back, Dr. Patterson says,
"I was making $36,000 a year with a family. It was remarkable that any of us said we would do it. But we started a pension plan in 1981. We put $15,000 into it. We decided to start saving based on the idea that there would come a time with no more pensions… and who knew what would happen to social security?"
Over the years, their group grew to include 6 pediatricians. Then the day came in 1998 that the hospital offered to buy their practice. They agreed, but soon came to realize that while the hospital knew how to run a hospital, they did now know how to run a pediatric practice. The loss of control that came from working for the hospital quickly became untenable, so Dr. Patterson and one other pediatrician, Dr. Jim Tedford, agreed to venture out on their own. In 2000, Patterson and Tedford Pediatrics was born.
Within the first year of striking out on their own, two of their major payers went bankrupt. However, the financial planning which led to the habit of saving and having capital allowed them to make it through this lean time. They also opened another pension plan when they started Patterson and Tedford Pediatrics. With the exception of that first year in business, they have always fully funded the plan.
All this to say, Dr. Patterson is a self-described 'devoted planner.' And it has paid off. His planning is not limited to retirement savings. He also pays attention to making smart financial choices for his pediatric business. He says,
"In my career, I've seen many physicians living paycheck to paycheck, even when they're making $180,000 a year. You wonder how they could be living that way, yet they do. You hear horror stories of practices on the edge."
At his practice, Dr. Patterson has made an effort to have two months of expenses in the bank at all times, so they don't have to worry about things like vaccine supplies or covering payroll and utility bills if a payer suddenly doesn't pay. He says, "That's a necessity, and most practices don't think of it that way. There are intentional things we do each year. For example, at the end of the year when vaccine companies send their price increase lists for the next year, we buy 6 months of supply up front. That means our end of year bonus is not so great, but we get a bigger return later. Those are the sorts of things – things that make financial sense – that require discipline and planning."
Another key planning tool has been to incorporate age diversity among his providers. As he shares, "Corporate knowledge and institutional knowledge - those habits created in a business and the things modeled to others – are not easily teachable. That sort of mentoring is what I think is essential if you're looking down the road. You want a 30, 40, and/or 50-year-old provider working alongside an older provider who has experience and has figured out a strategy and a discipline to deal with contingency situations. There are not very many young physicians with crushing student loan debt prepared to move to a state like California with its high real estate prices, high taxes, and on top of that, buy a house and a practice. They just can't do it."
"I like to say, 'You can have everything, but not all at once. Live like a resident. There will be time to enjoy stuff but get out of debt first. Don't take on more than you can manage.'"
Dr. Patterson's next piece of succession planning advice is to hire right. He says, "Identify people who are motivated to become a practice owner. Give them the opportunity to jump in and learn by making mistakes. There are a lot of pediatricians who just want to see patients. There are not so many who have the interest or skill in managing the business end of it." When you can find someone who does have that drive, it's important to bring them on board, mentor them and prepare them to take over the practice one day. Dr. Patterson shares,
"We try to hire people who are a good fit. We're ready to teach and mentor. Skill set is much less important than who people are. It's rare to find an incompetent boarded pediatrician. So, honesty, trustworthiness, and being full of integrity are the most important things."
When it comes to the actual transition into retirement, Dr. Patterson favors a gradual approach. Currently he is still working full-time, seeing patients and managing the business. The practice brought on a new resident last September, and another pediatrician will be joining them in July. They are 33 and 50 years old respectively – in alignment with Dr. Patterson's philosophy on maintaining age diversity in your practice. His job will be to train and mentor them while gradually transitioning his patients into their care. His hope is that by the end of 2019 he'll no longer be the owner/operator of the practice, and these new providers will have taken over. As he says, "I'm at the end of my career. But I love what I do. I love going to work. Pediatricians have the greatest job in the world. I'm not planning on retiring right now but I would like to be out of the day to day management and see patients only one or two days a week." During the transition phase, he'll likely spend a year or two continuing to be in the office, so patients see the same familiar face and have an easier time shifting to the new providers.
The final phase of succession planning is figuring out how to put a value on your practice. Dr. Patterson looks at this going with one of two options: an asset sale or a stock sale. He is warier of an asset sale, saying "You sell the assets and walk away from the business. The new owners can change the name. But whoever sold the business still owns all that liability. And suppose 5 years in the future, an insurance payer decides you defrauded them in some way… you don't want that hanging over your head. You don't want to walk away thinking something will come back to you."
In that regard, he is more drawn to the idea of a stock sale. In this situation, the assets and everything else such as the practice's name, website, EHR vendor contract, etc. are all part of the sale. To the outside (patients and the general public), everything looks the same. It's just the stock that changed hands. This kind of sale lends itself to a more seamless transition. Dr. Patterson says,
"I look at it from the perspective of wanting to have my staff and patients taken care of. I'm not that focused on getting every penny out of the business. I'm way more into people continuing to have a job. I want to behave in the interest of others. I want our people to do well."
As Dr. Patterson reflects on his career and the approaching transition to retirement, he notes the key elements that have guided him along the way – choices that straddle the line between smart business choice and guiding life principle. They are:
Pay yourself first
Live below your means to stay out of debt
Hire right
Mentor others
The choices Dr. Patterson made back in 1980 are providing for an easeful retirement plan today. As he says,
"Good habits were instilled early on, so I'm not dependent on practice income or income from the sale of the practice at this point. Now there is just the incredible freedom of doing it because you love doing it. Going to work with that perspective is a whole different deal. It's incredible when you're just doing it because you love the people and the work."
There are many paths to choose from on the road to succession planning. What works for one pediatrician may not work for another. And success can be found in myriad situations. Whether you plan from day one or start the process later, whether you pass the practice to a hospital or another independent pediatrician, there is a way to make it work for you. The important thing is to plan. Don't hope that things will fall into place at the last minute. Decide what your goals are for yourself and for the future of your practice and take steps to make those wishes a reality. Effective succession planning takes diligence, but if done well it will leave an ongoing legacy for yourself, your community, and your patients.