The recent public violence in Charlottesville and that in Barcelona which occurred shortly thereafter, has affected untold innocent bystanders who were nowhere near the event: the children who were exposed to it via media. These kids might require counseling and many parents find it difficult to discuss this sensitive topic. In many cases, the first line of defense for these children and their parents is their family pediatrician.
According to the American Academy of Pediatrics (AAP), "When children are exposed to a traumatic event, including a violent crime, their response may vary. Some children become fearful. They may prefer to stay at home, and they may have trouble sleeping and concentrating in school. Appetites often change, and children may complain of headaches, stomachaches and other vague symptoms. Even minor changes in their daily routines can upset them terribly."
Child Trends, a non-profit research organization that focuses on children and families, notes that one mechanism through which early, chronic exposure to violence affects children is by disrupting their developing brain. "Specific brain structures (amygdala, hippocampus and prefrontal cortex) are adversely affected by stress. Executive functions (such as planning, memory, focusing attention, impulse control and using new information to make decisions) can become impaired.
"Children who have had chronic exposure to real or perceived threats may become conditioned to react with fear and anxiety to a broad range of circumstances. Their diminished capacity to differentiate between genuine threats and objectively safe or neutral situations can impair their ability to learn and interact with others and may lead to serious anxiety disorders."
Children who are exposed to violence learn to resolve their own conflicts in a violent manner. The AAP adds, "Others seem to become desensitized to violence and the pain and distress of others. Some retreat into a shell, avoiding people and the world around them. These children with long-term exposure are at an increased risk for:
Behavioral, psychological and physical problems
Academic failure
Alcohol and substance use
Delinquent acts
Adult criminality
When these children repeat the violence they have experienced, they perpetuate a cycle of violence that can continue throughout future generations."
When called on to help counsel parents and their young patients about dealing with this public violence, many pediatricians may not realize that they have a tool to help in this type of caregiving. The pediatric-focused electronic health records (EHR) platform, developed by PCC, has a special counseling component – Bright Futures – that offers guidance for treating traumatized children.
Starting the Discussion about Violence is Critical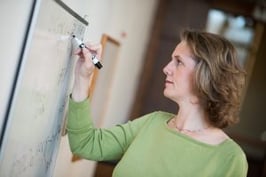 "The Bright Futures guidelines are geared toward wellness and prevention," said Jan Blanchard of PCC. "In most of the early childhood visits it is recommended that this question of violence be addressed by the pediatrician. Bright Futures has sample questions that the AAP developed to help clinicians deal with this topic. While there is no simple or easy way to discuss public or domestic violence, especially with children, these questions are designed to help the physician to anticipate the concerns.
"In cases of public violence that receive media attention, I believe parents look to their pediatrician for guidance in explaining things like this. Fortunately, due to the preventative aspects of Bright Futures, the pediatricians are well equipped to have this conversation. Encouraging discussion is the single most important 'treatment' for dealing with this type of trauma."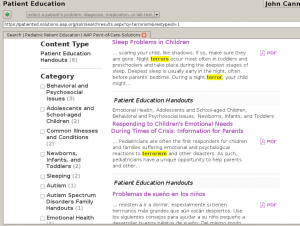 Pediatricians who subscribe to the PCC EHR platform can easily access Bright Futures and other AAP educational content (see the photo to the right for examples). Unlike more generalized EHR software programs, the PCC platform is designed exclusively for pediatric practices.