Patient recall strategy is a big issue that persistently faces pediatricians across the country. What steps is your practice taking to ensure that your patients continue to walk through the door when they're supposed to?
In the following sections, we will discuss how much revenue your practice is losing as a result of poor recall strategies and methods for you to improve.


Which Visits Are the Most Valuable?
First and foremost, it is absolutely critical that your practice understands which visits bring you the most value. When scheduling patients, be aware of the fact that well visits produce average revenue of $211, while sick visits only produce $80 (PCC EHR statistics). Furthermore, well visits are predictable and can be scheduled ahead of time while sick visits are typically scheduled last minute due to unforeseeable circumstances. It's important to fill your schedule with appointments that are guaranteed before you start to fill in the cracks with sick visits. Doing so will increase your profitability, bringing more value to your practice and ultimately to your patients.
Now that you understand the importance of prioritizing well visits, let's take a look at how efficient PCC's clients are at getting their patients in on time for their checkups.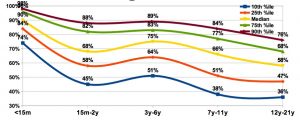 Graph Source: Chip Hart (PCC)
As you can see from the graph above, it becomes more and more difficult to recall patients as they age. This can come as a result of a perceived lack of need for a checkup, adolescent discomfort, or myriad other reasons. At this point, we will explore those reasons and how you can address them in your practice.
Step 1: Effective Tools for Scheduling Patients
Schedule checkups while the patient is in the office. It tends to be easier to get this done while you have your patient with you in person.
If a patient is overdue for their checkup but they need to be seen for a sick visit, schedule their checkup at the same time and kill two birds with one stone.
Generate a list of patients who are overdue for their well visits and sort them in descending order based on their average charge per visit. Reach out to patients in this order. Doing so will maximize your office's profitability, which ultimately provides more value for the patients.
Send postcards/letters. People who see private dentists should be very familiar with this. Every six months you receive a card letting you know that it's time to schedule your cleaning. Very quickly, it becomes psychologically ingrained within you that there is a need to get your teeth cleaned. Why should pediatric care be any different? Postcards can serve as a friendly reminder to parents that it's very important for their child to be examined frequently during their developmental and adolescent years.
When sending postcards to patients that are overdue for a checkup, start with one postcard in a gentle-colored envelope. Then, if they don't schedule their appointment within two weeks, send another postcard in an envelope that is more vibrant in color. Doing so will likely catch the patients' eye and cause them to respond to your call to action.

Graph Source: Chip Hart (PCC). This graphic demonstrates the success of the "two postcard punch" for Pediatric Associates. After the first wave of postcards, 21% of overdue patients scheduled their well visits. And after the second wave, that number shot up to 43%.
In addition to postcards, consider sending similarly formatted E-Cards through email.
Personalize these postcards based on the age and gender of the patient. For instance, a postcard for a newborn boy should be worded differently than one for a teenage girl.
Don't only use postcards for checkups. Consider using them for vaccinations and screenings as well. The repetition is a great way to market your practice and stay in the minds of your patients.
Pick up the phone. When scheduling overdue patients, one of the most effective methods is simply calling them.
Have a script prepared. While speaking on the phone, assume the appointment. Don't ask if the patient would like to come in, ask when. Create an effective, foolproof script that works for your office.
Incentivize your office staff to call overdue patients when they're not busy. You could encourage friendly competition by offering individual rewards for X amount of patients scheduled (and seen). You could also encourage a team effort for your entire office staff and give them all the same reward. This way, the people who are best on the phone can dedicate more time to calling while other office staff can take care of administrative tasks. Trust us, the value of the Red Lobster gift card you're giving away is significantly less than the value of X number of well visits. This is well worth it.
Step 2: Meet the Needs of Your Patients
Use an automated text reminder system for all patient visits. Once a patient is in your schedule, consider sending them automated text messages 48 hours and 24 hours before their visit. Doing so will significantly decrease your number of no-shows and last minute cancellations.
Consider opening your office at least one evening and/or weekend day a week. Keep in mind that most of your patients' families work Monday-Friday, 9am-5pm. Perhaps the reason certain patients are overdue for checkups is the fact that their parents don't have room in their schedule. By reformatting your schedule to meet your patients' needs, you might find that it fills up a lot more quickly for you.
Address the specific needs of individual patients. It is totally plausible that the reason for an overdue checkup is discomfort. For instance, adolescent boys might become uncomfortable with a female physician, and vice-versa. If you are part of a practice with both male and female doctors, address this issue head on and ask if the patient would like to switch to the other physician. Doing so could get those patients in the door more quickly.
Step 3: Show Them Your Value
At the end of every sick visit or well visit, provide a checklist showing the patient everything that you covered that day. A lot of parents don't understand the sheer amount of things that are examined during these appointments. Similar to the 30-point checklist you get after an oil change for your car, a checklist from the doctor's office clearly states what was screened. This information is beneficial for the parent so they know exactly what's going on with their child, and it might also help to sort out any confusion with insurance coverage, in case a certain insurance provider doesn't cover vision screenings, etc.
Don't be afraid to implement a penalty system that works for you. For example, bill missed appointments without 24 hours notice, and remove patients from the practice for 3+ missed appointments. Every open time slot on your schedule is lost revenue, and it hurts your bottom line if you don't hold your patients accountable.
Step 4: Keep Your Patient List Up to Date
Stay on top of your inactive patients. If they haven't been seen in years, deactivate them. If they move, deactivate them. Reaching out to people who are no longer with your practice is waste of time, and it is a poor reflection of your office.