About the Positivity in Pediatrics Series
This post is part of PCC's Positivity in Pediatrics series, a collection of stories about pediatricians and pediatric offices who have stories to tell about how they are surviving and thriving during the COVID-19 pandemic. We hope their unique views can inspire you to practice in the way that best serves your community.
This week, we spoke to Dr. Lynn Peters, DO of Pediatric Associates of Mt. Carmel, which has three locations near Cincinnati, OH. She explains the practice's efficient leadership style, patient recall strategies, and how to be as proactive as possible in an uncertain time.
Strength in Numbers
With nine providers across three locations, you might think the job of managing a practice near a populous area like Cincinnati would be difficult. But Dr. Peters says that the practice's management style has worked extremely well in their favor -- each pediatrician leads an area that plays to their strengths and interests. For example, Dr. Peters is the practice's EHR expert, while another partner brings insights from his work with the Ohio AAP, and another from the Cincinnati Pediatric Society.
"Everybody's assumed a different role now," says Dr. Peters, "Which does help keep us organized and we keep an active flow with trying to bounce off ideas."
She says the physicians also learn together, attending webinars such as the PMI Business Impact series and texting a group chat with thoughts or strategies they'd like to try.
Patient Recall
A quiet period for many pediatricians, the stay-at-home measures have not deterred Dr. Peters and her practice. Along with their regular routine of learning from the Ohio AAP, the Cincinnati Pediatric Society, and from the Cincinnati Children's Hospital, the partners and staff at Mt. Carmel are working hard to not only get patients in the door, but to make sure they feel comfortable doing so.
Adopting telemedicine services has gone well for the practice, and they have also split sick and well visits between locations, and strongly recommends masks for all families. Their recall strategies include phone calls and texts to patients due for a visit. Other practices have found success with recall strategies that are specific and direct to each family. For example, instead of an email that says "You're due for a visit!" you might choose to send a message to a specific group: "Your child is due for a 2 month well visit and/or immunizations." See the PMI Business Impact webinar series' forum for more practical tips from PCC's Chip Hart.
"When you can get a hold of people, when you talk to them personally and say 'hey,'...we have some really great staff that just can personally spend the time and say, 'This is what we're doing to keep you safe,' and everything like that and families are like, 'Okay. Well, we'll think about this again.' And so, I think some of those we'll be able to convince to come in."
Dr. Peters also reports success when recall efforts include the specific reason a child should come in -- for example, a 1 month well visit. "When I can say, 'Your child is due for a one month visit,' and they're like, 'Oh, they really know.' I'm hoping that's helpful, as opposed to just that bland, 'You're due for a checkup,' and they'd be like, "Yeah, whatever. You're just sending this to everybody.'"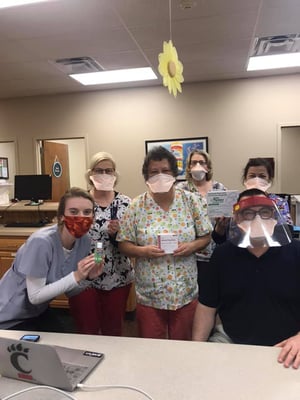 Pictured: Staff at Mt. Carmel show off supplies they were given from a local charity.
Advice from Dr. Lynn Peters
Dr. Peters' advice for pediatricians? She told PCC that her work stems from the drive to find accessible resources for patient care. At Mt. Carmel, this has included different hours, telemedicine, and the addition of a psychologist to the practice.
"For me, personally, you work with these families and their welfare is the first thing we talk about. 'How are things going at home? What are you guys doing?' and things like that because we're just looking for people to have happy, healthy families in the long run.
"I think the more proactive you can be, the less issue you're going to have with problems in the future. I think that's our goal, is to do that and then try to find... We want to maintain what we've done, but we want to find more accessible ways to deliver care, more ways to make the practice accessible to families and things like that through having a good website and using social media."
For more practice management advice, plus ongoing discussion with your colleagues, be sure to join The Pediatric Management Institute's Business Impact forum, where you can find resources and practical discussion on managing a pediatric practice.