About the Positivity in Pediatrics Series
This post is part of PCC's Positivity in Pediatrics series, a collection of stories about pediatricians and pediatric offices who have stories to tell about how they are surviving and thriving during the COVID-19 pandemic. We hope their unique views can inspire you to practice in the way that best serves your community.
This week, we're learning how a Connecticut pediatrician used a stroke of luck and lots of ingenuity to switch to telemedicine quickly and efficiently -- and how she uses unexpected spare time to go the extra mile.
---
Dr. Jeanne Marconi, MD, FAAP, had to adjust to the coronavirus pandemic very quickly. She is a managing partner at The Center for Advanced Pediatrics in Norwalk and Darien, CT, where she has practiced as a pediatrician since 1991. Dr. Marconi and her colleagues knew that to get patient volumes to mirror what they had been pre-pandemic, they would have to make changes to make pediatric care accessible and safe for families isolating at home.
In order to execute a complete well visit, Dr. Marconi and team at first began well-visits via telemedicine before completing the visit in the parking lot of the practice. Her practice has since been able to submit complete well visits to their payors. She explains:
"What we decided was, we were afraid that immunization rates are going to plummet. So, we have decided that once a week we're going to hold an immunization-only drive up clinic, and we do that for flu shots. We've been doing flu shot drive-ups for years."
While the process of converting to a drive-through immunization clinic has been too quick to assess numbers, Dr. Marconi knows that immunization rates have the potential to fall during the pandemic and possibly overwhelm providers later, so the practice is trying their best now to prevent any kids missing or delaying their vaccines.
As for telemedicine, the team at The Center for Advanced Pediatrics were in luck. They had been preparing for a ramp-up of telemedicine before the pandemic hit, and so were in a prime position to be there for families at home precisely when they were needed.
"I want to say it took a good six months for us to get everything ready to do telehealth," says Dr. Marconi. "To do it properly. So meaning, our website got adjusted for it, our appointment schedules got adjusted for it. We had to train the staff for it. We had to add it to all of our print materials. I mean, it just doesn't happen in one day. I don't know how some of these people got them up and running in a few days. It's miraculous, right?"
Dr. Marconi's team was ready for televisits, but she still hesitated. Like many providers, she and her team weren't entirely comfortable completing a full well visit remotely. So in an act of ingenuity, the practice began to offer the tools needed so that parents and patients could provide the data pediatricians sorely missed.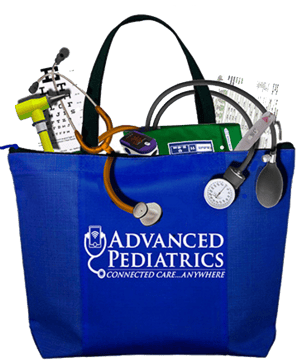 Included in the "tele-bags" is a practice-approved thermometer, oximeter, blood pressure cuff, and otoscope for families to measure raw data from the comfort of the patient's home. While she herself regrets the lack of a stethoscope, Dr. Marconi's patients seemed to love the concept, as the practice has sold out of the bags, for which they charged $100 (the bags' equipment is able to be sanitized and reused).
Telehealth wasn't completely smooth sailing, however. Prior to the sudden and unexpected necessity of telemedicine, Dr. Marconi's team were wary of offering the remote practice while still providing the consistent and complete care available at the office.
Dr. Marconi acknowledges there are certain limitations to telemedicine, but points out that for certain visits like lactation, nutrition, and behavioral health, telemedicine is ideal.
"I can't say a negative thing about telehealth right now. I think it's saved us."
And now that telemedicine has taken over many visits, the other providers at the practice have come to love telemedicine -- and so have their patients. "They're like, "This was so great. It was like the doctor was in our living room!'"
Dr. Marconi adds that the ability to see into a patient's home environment is a great contextual tool, too, as well as a great way to maintain compliance, med re-checks, and nutrition checks, as the ease of access makes scheduling a visit easier than ever.
While she has had more time than many to develop a telemedicine program, Dr. Marconi is quick to encourage her colleagues to do the same. When asked if she had advice for pediatricians looking to begin services similar to hers, she says,
"I think the best way to run any new project in a practice is to have a champion for it and a team, and you have to make sure that the team you pick are people that can get the job done. So having set goals, action plans, and sticking to a timeline, I guess, would be my best advice. But you have to adapt. You have to be like Gumby. You have to be flexible. And that's my slogan. You have to kind of be an agent of change, and kind of go with the flow, otherwise you get left behind."
For practices aspiring to innovate like The Advanced Center for Pediatrics, Dr. Marconi gave the following tips:
For Drive-Thru Immunizations/Well Visits
Check with your landlord for permission to run the clinic on the property, and provide them with a copy of your insurance certificate.
Determine a location where families can drive up to access providers safely and without interrupting other office activities.
Educate the staff and determine appointment schedules.
Be the champion or delegate a champion for the project to lead the project, establish action items, and set deadlines.
Perform a SWOT analysis after each visit to see how patients' experience aligns with expectations.
Plan for weather.
Plan for room in the office for a patient who needs further examination.
No pediatrician plans for a public health crisis, but Dr. Marconi still can see positives in the changes: "The other great opportunity of doing the tele-well visits, especially with the teenagers, is you'll do it with them individually. When else do we have more time to talk to these kids?
"It's a good check in. They're having a lot of anxiety about what's going on. Some of them are not going to have a high school graduation. Some of them are finishing college without really being ready. That last six months is a sign of an opportunity for them to grow and figure out where their life is going, and have some guidance, and applying for jobs. And we have such the ability to make a difference and touch base with them, and spend an extra 10 minutes we didn't have before."
For more information on beginning telemedicine, drive through immunizations, billing, and more, be sure to visit places such as the AAP SOAPM listserv, the Pediatric Management Institute forum, and the PCC Talk forum for PCC clients. PCC also has a live list of resources available to address COVID-specific issues for pediatricians.