Whether you're establishing a new practice, or renovating your current pediatric office design, first impressions are important for children, adolescents, and patient families alike.
The waiting room sets the stage for the rest of your practice, so it's important to make your patients feel welcome. Is it inviting enough? Is it bright? Is it comfortable? Parents judge your practice by what they see, and it all starts with your waiting room.
Parents and patients communicate to others about their experience and refer friends to your practice. So designing a pediatric waiting room with families in mind and creating a flexible space is crucial when starting or remodeling your practice.
Here are ten questions to ask when considering your pediatric office design:
1. Is the environment child-friendly?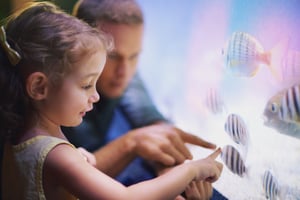 The environment should invoke comfort, play, and harmony. Try to create colorful, well-lit, and organized spaces. Children may feel better during a nerve-wracking doctor's appointment if they are provided with a calm, fun waiting experience. Try having areas of the waiting room designed for specific age ranges.
For some waiting room decorating ideas, you could project images on the walls, put in mirrors, or provide interactive games. You could even install an aquarium!
It's also important to consider your adolescent patients. Add outlets or charging stations for their devices, and consider providing free Wi-Fi for both your patients and their parents.
2. Does the waiting room feel comforting?
If you were to walk into a practice's waiting room, what would make you feel unwelcome? When considering your pediatric waiting room design, scrutinize the space and check for cleanliness. Even washing out a small stain on the carpet goes a long way.
Is there any wear on your furniture that would make it uninviting? Do your patients have up-to-date reading material to keep their attention while they wait? If you hand out toys, are they in their original package and child-friendly? These tiny details can make a world of a difference for your patients.
3. Do we offer positive distractions?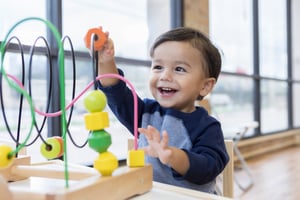 Nobody enjoys sitting in a waiting room for long periods of
time一even adult humans get bored easily! So consider offering activities to keep minds and hands busy.
Provide appropriate books, toys, and activities to keep children happy, no matter their age range. Anything that can keep your patients busy and content while they wait for their appointment will lead to a better overall experience.
4. Is the furniture scaled to the audience?
A child's world is a small world, so child-appropriate seating is important. Consider adding "fun-size" seating to your waiting room for when your younger patients need to take a load off.
Also keep in mind that many energetic children will not want to sit in chairs! For these youngsters, it's important to keep clean rugs and cushions in play areas.
5. Do we offer intuitive signage and directions?
Creating a welcoming feeling for a child requires a space where the transition from the waiting room to your pediatric exam room should never cause anxiety or fear. So make your signage easy to follow, and make sure staff is easily visible through glass dividers along the way to give them a sense of safety.
6. Are we following safety requirements?
Safety requirements in pediatric spaces include infection prevention and control, as well as physical safety in the pediatric exam rooms, waiting rooms and on the general premises.
You can't be certain what germs your kiddos will bring into the space, so keeping up with sanitation and infection control in the waiting room should be a top priority for any practice. And always be aware of your state and local protocols for masking.
7. Does the environment support providers and caregivers?
Pediatric waiting rooms aren't just for your patients. Clinical providers and staff have a deep investment in their patients and the practice environment needs to support this dedication. Rooms should provide ample light, good visibility, and quick access to supplies, medications, and distraction tools.
8. Does the space provide patient privacy?
Being in an enclosed space with multiple other families can be stressful. So give your patients and parents ways to section themselves off from others.
When going through your pediatric waiting room design, ensure you have multiple seating options with a reasonable amount of space in between chairs. Some practices go so far as to provide partitioned spaces for families to keep to themselves. Remember, some children will have greater amounts of social anxiety, and such a gesture can go a long way in providing a comfortable waiting room experience.
9. Does the practice have a space for inter- or multidisciplinary programs?
You help your patients with pediatric care and advice. Offering space for community groups, support programs, child educators and psychologists, and police/safety groups will enhance your connection to your patients.
You can advertise these online, or have posters on the wall that can get your patient's attention. This will make your practice seem more like a casual community space than an intimidating doctor's office.
10. Have we gotten a second opinion from our patients?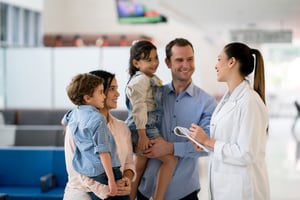 If you really want to know what your patients think about your pediatric practice, you can ask them! No one knows the "patient experience" better than your patients. A simple survey while your patients wait, or a message via your patient portal can give you key insights that you may have missed about your pediatric office design. And to a parent and adolescent patient, it shows that you care.
A positive pediatric experience starts at the door.
Visitors may spend just as much time in the waiting room as with a pediatrician, so it's important to invest in your space, and consider your patients' comfort when designing your office. A serene, clean, and inviting pediatric waiting room can make all the difference to nervous patients and is well worth the investment.