Pediatricians do not spend years in medical school, endure long days and sleepless nights during internship and residency, and then start their own practices because they love running a business. All physicians, and especially pediatricians, have an unrelenting passion for helping patients not operating an enterprise.
Unfortunately, a pediatric practice is a very complicated business, with many moving parts, and managing it requires very specialized business tools. Questions such as: what is the collection rate of the practice, what is the daily patient volume it realizes and what are the fixed and variable costs and overhead are all important to ensuring its sustainability. Plus, leveraging business tools such as automation of such things as billing and marketing functions will not only help to grow the practice but will allow the physicians to concentrate on patient care and treatment.
This is where the PCC electronic health records (EHR) platform has proven to be invaluable. There are hundreds of features of this pediatric–focused EHR system, but in a recent discussion, Lynne Gratton, an implementation specialist for PCC, selected eight that can help a pediatric practice become a successful business.
8 PCC Features That Can Transform a Pediatric Practice
#1 A revolutionary CPT code system that brings order from chaos
The PCC platform allows EHR orders to be linked to appropriate CPT (Current Procedural Terminology) codes. These codes are used by insurers to determine the amount of reimbursement a practitioner will receive for the services provided. This linking allows services, such as immunizations, to be easily billed when the clinician clicks on the order button. These CPT codes are then sent to the practice management area of the platform to be billed and submitted to insurance.
Although this feature is not unique to PCC, the control the practices have over how their clinical protocols generate billing information gives them more accuracy and speeds up the process in a specialty where every minute counts!
Plus, PCC's practice management system allows the practice to send different CPT codes based on insurance. In those states where Medicaid requires a "modifier" on all immunizations, and sometimes a price of $.01, the platform is configured to do this automatically for patients with that type of insurance. This means billers do not need to memorize hundreds of different rules.
"We also allow options for which CPT codes are billed," Gratton said. "Using the example of immunizations, we default the order to use the CPT for 'counseling' but allow the clinician to change the CPT code to 'without counseling' for nurse-only immunization visits. This is a huge time-saver!"
#2 Snap labs streamline ordering multiple labs
Practices that use the PCC platform also have the option of adding "snap labs" giving them the capacity to order more than one lab simultaneously. If a practice routinely runs a set of labs at a specific age well visit, they can easily order them all with a single 'click.'
"This component of the PCC platform greatly enhances efficiency with procedures, such as an abdominal panel," Gratton said. "This procedure might have five or six labs associated with it and with a snap lab the clinician can order all of them – and the billing is automatic!"
#3 This EHR knows why a patient is in your office
The protocol configuration tool of the PCC pediatric-focused platform allows the doctor or nurse to place the correct orders based on the reason for the visit or age of the patient. This allows the clinician to easily select the correct set of immunizations and/or developmental screenings.
"Protocols are linked to appointment visit reasons," Gratton said. "Thus, when a one year old comes in for a well visit the software brings up the appropriate protocol with all of the typical orders used during that type of visit. The immunizations, labs and even Bright Futures-based guidelines are queued up for the pediatrician. If a well visit turns into a sick visit, one click adds the sick protocol to the chart or change the protocol completely to the sick protocol."
Plus, when clients schedule same-day appointments an eligibility request immediately goes out to the insurance plan. The office staff is not required to open a browser to check on the eligibility of a patient. Instead, they see the eligibility response when they check the patient in at the front desk.
#4 Adding extra siblings to a visit is simple
"It's not unusual for a parent with a sick child who scheduled to see the pediatrician to bring along a sibling who may also have similar symptoms," Gratton said. "Every pediatrician knows the 'Oh, while we are here' visit. PCC makes it easy for clinician to open a sibling chart and create a visit in real time. This allows the doctor to have a tab for each patient making it simple to jump back and forth between patients as needed. Moreover, the clinician can share clinical elements, such as family or problem lists, from sibling to sibling with one click."
#5 A powerful tool for tracking childhood immunizations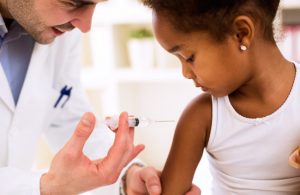 Because the PCC platform embeds pediatric functionality throughout the system, managing the immunization process is easier, faster and more accurate. Immunization orders placed by clinicians update the patient's immunization record immediately. Clients can also print state or school specific immunization forms instead of filling them out manually. There is also an ACIP-driven immunization forecaster that helps doctors to easily identify patients who are behind on their immunizations.
PCC also features an immunization inventory tool allows a practice to add immunization lot numbers as soon as shipments are received. Administrators can disallow use of a specific lot until previous lots are depleted. They can also easily access the immunization inventory tool while editing a patient's immunization order to deplete a previous lot and activate a reserve lot.
#6 A unique way to track patient growth points
"Tracking patient growth is extremely important for the young patients of pediatricians," noted Gratton. "This can also be a tedious job. With the PCC platform, growth points are automatically added to growth charts when the vitals of the patients are taken and recorded. The platform also has growth charts for premature babies and patients with Down Syndrome. No other EHR system has licensed the proper data from AAP for this critical function."
#7 Family-style billing with the correct CPT codes all processed efficiently
PCC's practice management system is "family-style billing." This means a family gets one bill, not one bill per patient. When a mom calls the office to schedule an appointment or walks in for "today's" visit, the staff has all of her family's financial history at their fingertips.
"Our platform sends billing data directly from the EHR into the practice management system," Gratton said. "This means that there is no need to review the chart, since all orders automatically send the appropriate CPT codes when the order button it selected. Plus, the practice always has the ability to review these charges before posting and submitting to insurance."
#8 A rich storehouse of pediatric content makes counseling easier
Another exclusive, pediatric feature of the PCC platform – patient handouts – enables the physician to counsel parents and children on a wide variety of topics and send this content directly to the patient portal. Patient handouts from the AAP such as that from Pediatric Care Online or Pediatric Patient Education are a click away, and clinicians can find handouts based on diagnoses selected in the current visit or any diagnosis on the patient's problem list. They can also search for any handout, like the latest Bright Futures handouts.