The growth of participation in youth sports has led to a staggering increase in the number of injuries—some life threatening—to children. In a recent report, the Sports and Fitness Industry Association says nearly 31 million children ages 6-14 participated at least once in sports or activities in 2015. Their studies show that 3.5 million children, ages 14 and younger are treated annually for sports injuries.
In many instances, pediatricians are the first line of defense for treating and protecting these young athletes, and some innovative medical practices have begun using their electronic health record (
EHR
) platform to accomplish these goals. At a recent national conference—
The Eighth Annual Youth Sports Safety Summit
—new guidelines were presented to help coaches, trainers and parents respond to these on-field emergencies.
A report on this conference noted that the guidelines cover creating emergency action plans for sudden cardiac arrest, catastrophic brain and neck injuries, exertional heat stroke, potentially life threatening medical conditions, environmental issues such as lightning and access to medical services.
Beyond creating the plans, the task force called for youth organizations to develop training programs, educate members on sports safety practices and create a reporting structure to monitor compliance.
Using an EHR to Screen Youth Athletes
The parents of young athletes who live in Norwalk, Darien and Ridgefield Connecticut have a "teammate" to help them keep their kids safe. The Center for Advanced Pediatrics is dedicated to comprehensive, family-focused health care for infants, children, adolescents and young adults. This practice has developed a program to use EHRs in the prevention of youth sports injuries, such as concussions.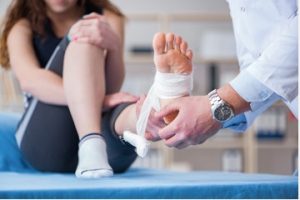 "The Center for Advanced Pediatrics (CAP) uses their EHR platform to prompt them to screen students who are playing contact sports, which would put them at high risk for getting a concussion," noted Dr. Ellen Fahey, who in addition to being nurse practitioner, PhD. and faculty member at Columbia University, helped found the "Concussion Center" at CAP. "Once a student is identified, we refer them for baseline neurocognitive, balance and visual tracking evaluation. This also allows us to educate parents and students on the signs and symptoms of a concussion so that, if they were to get injured, they would know how to recognize it and seek treatment."
This ingenious use of electronic health records can save precious time when a young athlete is injured, and it is an integral part of the PCC platform.
"A key element of a pediatric-specific EHR is injury or disease prevention," noted Chip Hart, director of Pediatric Solutions at PCC. "Most EHRs focus on why a patient showed up in the office today and recording information to protect against a coding audit or jump through some 'quality measurement' hoops. Pediatricians need something to help keep kids out of the office for acute reasons.
"One of the most annoying things a pediatrician has to deal with is a 'sports physical,'" Hart added. "These 'physicals' are usually done in retail clinics or by having a local physician' assistants show up at a team event and clearing the kids for participation in a sport.
"The problem with this scenario is that the parents then skip the full physical at the pediatrician's office because they mistakenly believe they have had a real physical. Young athletes, in fact all children, should undergo the 'Bright Futures' physicals, administered by their pediatrician."
The Danger of Concussions among Young Athletes
The long-term health effects of a concussion are the worst nightmare for every student-athlete's parent. Dr. Fahey was asked about how a parent or coach can determine whether a concussion has occurred.
"Concussions are not always easy to recognize," she said. "Asking specific questions to assess if the student-athlete may be showing signs of changes in either behavior or symptoms after a blow to the body or head is the best way to assess, in the absence of loss of consciousness or amnesia, which are tell-tale signs of a concussion.
"There are immediate dangers associated with allowing a student athlete to continue to play after suffering a concussion. The developing brain is susceptible to 'second impact syndrome,' which is a rare, but potentially life threatening, and certainly potentially life altering, complication of concussion."
A member of the PCC family, Jen Loiselle, who is a twenty-year veteran of the company and works in the accounting and event-planning teams, has had more experience with kids and concussions than she ever thought she would!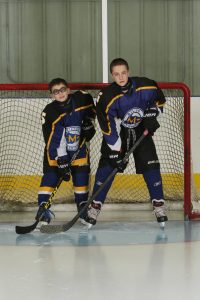 "We have two boys, ages 12 and 15, both of whom play hockey and our oldest has experienced two concussions," she said. "Seeing your child lying on the ice and then sitting dazed on the bench from a head injury is a terrifying experience for any parent. Our pediatrician was well-versed on the treatment protocols, and we are happy to note that he has recovered from both well enough to get back on the ice!"
Can EHR Help Pediatricians Predict Propensity for Injury?
The medical histories of professional and, in some cases, college athletes are being more closely scrutinized to determine if the athlete is more susceptible to certain injuries. Previous fractures, heart irregularities and incidence of concussions are all a part of the extensive physicals elite athletes must now undergo before a contract is signed.
Typically, the medical histories of younger athletes are not as rigorously examined. However, Dr. Fahey sees some potential for using an EHR platform to help pediatricians and parents anticipate potential dangers from participation in sports.
"An EHR platform can prompt clinicians ask about the types of sports the students participate in, history of injuries and risk factors for concussion," she said. "However, I do not believe electronic health records can predict injuries from a family history."
Many pediatricians, who have previously associated EHR with the drudgery of extra hours of record-keeping, are now beginning to realize the other benefits of a pediatric-focused electronic health records platform. The PCC platform is designed for pediatricians exclusively, and it is more than just a record-keeping tool. The young athletes whose doctors use this platform are safer because of it.