The staff at Pearland Pediatrics doesn't have much experience filming videos. They're not experts in social media or digital marketing. They're still seeing patients, albeit in outdoor exam rooms bordered by oleander shrubs, and they've switched to telemedicine like thousands of other practices across the country. But patients still miss their doctors, they're bored and worried at home, and the staff is dedicated to their community -- so Pearland Pediatrics is getting creative.
About the Positivity in Pediatrics Series
This post is part of PCC's Positivity in Pediatrics series, a collection of stories about pediatricians and pediatric offices who have stories to tell about how they are surviving and thriving during the COVID-19 pandemic. We hope their unique views can inspire you to practice in the way that best serves your community.
This week, we spoke to Laurie Christensen, the office manager at Pearland Pediatrics in Pearland, Texas, a practice that's turned to posting videos on social media to connect to patients.
Why videos? Christensen says the practice learned from forums and webinars, including those hosted by PCC and the Pediatric Management Institute that videos were a great resource to connect to patients. She also says it's for a much simpler reason: "We've just seen that people want to see their providers."
"We're Seeing Anybody That Wants to Come In"
It's business as usual at Pearland Pediatrics -- almost. "We're still offering pretty much everything that we've offered before," says Christensen. "We're still seeing well visits. We're not limiting services to any certain age right now."
The biggest change is that many services are now offered via telemedicine. She reports Pearland is offering lactation, nutrition, and sick visits via telemedicine, and bringing in cases as deemed necessary, such as injuries. "We're still casting, still splinting, all that. We've done a cast on a four year old outside, in a tent."
One service that is on indefinite hiatus is walk-in appointments -- but Christensen says that patients can call and usually get a telemedicine visit the same day.
While the services are the same, the telemedicine piece is new. While the practice had discussed telemedicine before, it wasn't until the pandemic that the practice saw it was necessary to keep patients safe and keep visits coming. The process was quick. "I think we got it up in like five days."
Despite the rapid turnaround from in-person to tele-visits, telemedicine has become an important part of the practice's triage. "If we feel like we need an exam to decide what to do next or we need a swab, like maybe you have strep or maybe you have COVID, then we'll have to see [a patient in person]."
The practice has set up a tent outside for triage, and on the side of the building were some convenient oleanders that the staff uses to screen one patient from another. While the tent hasn't gone up on windy days, and the environment is new, the staff still see the bright side: "We say it comes with your lizard friends."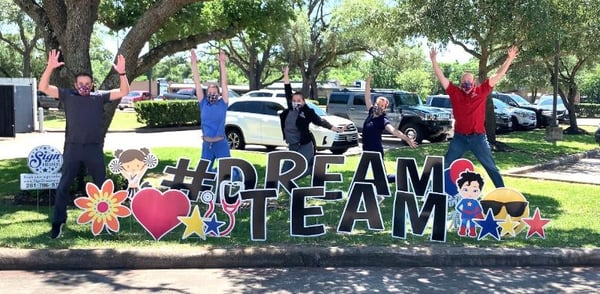 Pearland staff pose behind a #dreamteam sign at their office.
Social Media Stars
Christensen says that Pearland Pediatrics' strength is not on social media, but you wouldn't know it from their presence there lately. Since mid-March 2020, the practice has turned to their social media channels, primarily Facebook, sharing updates on their policies, hours, sharing useful links, photos, and most creatively, videos.
"Lately it's definitely been our way of updating everybody on what's going on during the pandemic. And the videos are definitely new, we've never done a video before and so we had so much fun doing it."
The videos Pearland has created include tours through their outdoor exam text, a walk through the building showing new cleaning and safety procedures, and staged telemedicine and drive up clinic visits so that patients can see what to expect.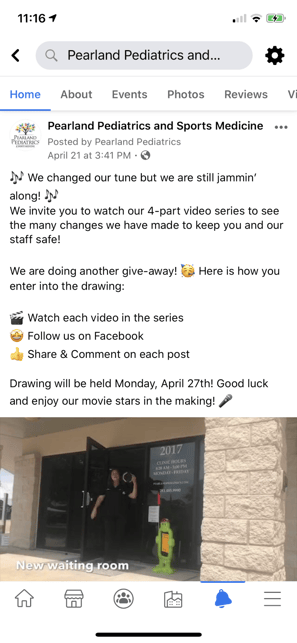 A frequent star in the videos is Karen Bolton, FNP, who guides viewers through the changes with a smile on her face and a boombox on her shoulder (left) to show that while care at Pearland may look a little different, they're still "jamming along to a different tune."
"She loves doing this stuff," Christensen says, "So Karen is the one being the host throughout the video series that we did that one week. And so she helped us put all that together."
The videos were shot in one day, and compiled with help from an expert, but staged and captured by staff during a single lunch break. The patients visible in the videos are the wife and children of Dr. Brad Onhaizer, a provider at the practice.
Future Tik Tok Fame?
As the practice continues to share information on social media, they've begun expanding their repertoire to share raffles for toys and games and to post to other platforms like Instagram. They hope with help to soon appear on TikTok and continue making videos.
"So we're just doing a lot of different things to try to hit it from different angles because we still hear people say, "Oh, you are open?" Of course we're open. But the videos were to actually show them too that the office [is] open and these are the things we're doing rather than just writing it."
"I mean, if you read some of the comments -- "Oh my gosh. Thank you for everything you're doing." Or, "Oh, I had no idea."
Or things like that. And so we wanted... our goal is to make people understand that it's safe here, we're minimizing risk and you can still come in very safely. You're probably more safe here than going to the grocery."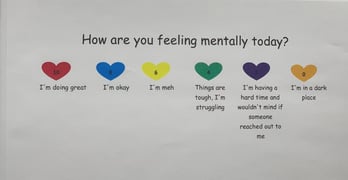 A daily check-in chart helps staff record their well-being.
OM Christensen says managers check in when staff need a helping hand.
Christensen's final advice for other practices is to keep communication constant and consistent between staff members. As well as checking temperatures during each shift, management makes sure to communicate to remote members and to check in with staff who need a little support.
As for social media success? "Give yourself some grace to have some fun and mess up and try again because it took us quite a few takes but it was fun. Yeah, it's not going to be for everybody but you've got to find somebody in the practice that's willing because patients want to see the providers and the staff."
For more advice on patient engagement and practice management, be sure to check out the PMI Business Impact forum, where weekly webinars bring PMI's Paulie Vanchiere and PCC's Chip Hart together with pediatricians and experts to guide practice's responses to the pandemic.