In our previous article, we explored impacts of research studies and QI projects on independent pediatric practices. Ultimately, we found that incentives such as stipends and workflow improvements that benefit patients are great reasons to participate in insurance-based or state studies for many practices. In this post, we'll take a closer look at the more traditional form of pediatric research, including how your practice can participate – and why even in formal research settings, relationships are crucial for success.
Research in Pediatrics
As we mentioned in our previous post, formal scientific research occurs via the American Academy of Pediatrics, university hospitals, and research clinics throughout the country. Thanks to tips from our blog readers in response to the first part of this series, we want to be sure to add another important resource for pediatric research: the National Institutes of Health. Like other entities, the NIH identifies the challenge of recruiting appropriate populations of patients in many clinical studies, remarking that: "There have always been barriers to recruiting volunteers for clinical research studies. Through the efforts of the NIH, challenges such as language differences, low literacy, and mistrust are being addressed."
AAP PROS & PCC
The American Academy of Pediatrics' Pediatric Research in Office Settings Network (AAP PROS) is a mainstay of national pediatric research, and perhaps the most easily accessible research network for independent pediatricians interested in participating in pediatric research.
PCC participates in studies, too! PCC's Tim Proctor is often involved in guiding research projects between PCC and the AAP PROS studies, and says that PCC's involvement usually revolves around providing data and recruiting interested practices for studies. "For our clients, many practices participate in the spirit of helping research and improving patient outcomes," Tim says.
AAP PROS studies usually come with a small stipend, and time commitments vary based on the study's requirements: participating in training, for example. Tim continues, "Another benefit to PROS studies is that many offer MOC part 4 credits if they involve quality improvement aspects. These credits can be difficult to obtain and are required to maintain Board certification.
Like any project, participation in studies may come with challenges. Tim reflects that in one study, maintaining patient engagement proved hard for participating clinicians, especially as the COVID-19 pandemic occurred in the middle of the study. Prolonged studies or studies which require significant intervention can prove difficult for practices, and as Tim reminds us, not every study is successful in its aims.
"However, most studies we have collaborated in require minimal intervention," Tim says. He explains that at the close of each study, study results are published, at which time PCC and other clinician collaborators get a glimpse at how their work – usually minimal – contributes to the field of pediatric research.
While PCC helps provide data and connect a large organization like the AAP with practices interested in research participation, not every practice must go through state, national, or payor-based avenues to participate in research. In fact, one practice in Washington proves that research is made easier – and even more effective – by banking on relationships.
Research through Relationships: Studies in Seattle
Dr. Rick Levine is a pediatrician at Skagit Pediatrics of Mt. Vernon, WA. Dr. Levine completed his residency at Seattle Childrens', and has practiced at Skagit Pediatrics since 1995.
"Skagit Pediatrics has always been interested in participating in research", he says. "It's an important part of the way we learn and practice. Most of us trained in an academic environment, and it's hard to let that go when you leave residency. By participating in research studies, we have the opportunity for learning at the cutting edge. For us, it's a way of staying engaged in academic work, even if we're just a small part."
The Pediatricians at Skagit Pediatrics stay connected to research by relying on the relationships with the clinicians at University of Washington and Seattle Childrens' that they have built over years – first as residents and then as practicing pediatricians. These relationships allow a level of trust and engagement with academic research that has allowed for many opportunities to collaborate.
Dr. Levine says that the clinic has been selective in choosing the research studies that fit their practice, workflows, and the needs of their patients. Ultimately, they have often drawn towards studies that explore improving efficacy in primary care through use of emerging technologies. Here are just a few of the studies Skagit Pediatrics has participated in:
In the early 2000s, when EHRs were in their infancy, a team at Seattle Childrens' led a study on electronic e-prescribing, using 'I-packs'. "These were big clunky hand-helds we wore on holsters and we tested out printing prescriptions or sending them directly to a pharmacy through a fax line," Dr. Levine explains.
Moving forward into the 2010s: they were involved in a study working with the University of Washington using the M-CHAT (Modified Checklist for Autism in Toddlers) revised with followup to screen for Autism. This was an opportunity to utilize what was then a new form of the M-CHAT delivered to families in an interactive way using a tablet in the clinic. The Clinic staff as well as the patient's parents became the study population. The approach was so effective that the clinic continued to use it for years after the study ended!
Later, Dr. Levine and his colleagues participated in another Seattle Childrens' study that used an interactive online screening questionnaire around health topics for adolescents to complete prior to their well-visit. "It was a total success," Dr. Levine says. "It would give feedback to the teen as they completed questions and send us a summary of their answers prior to the visit so we could be prepared to review their individual concerns.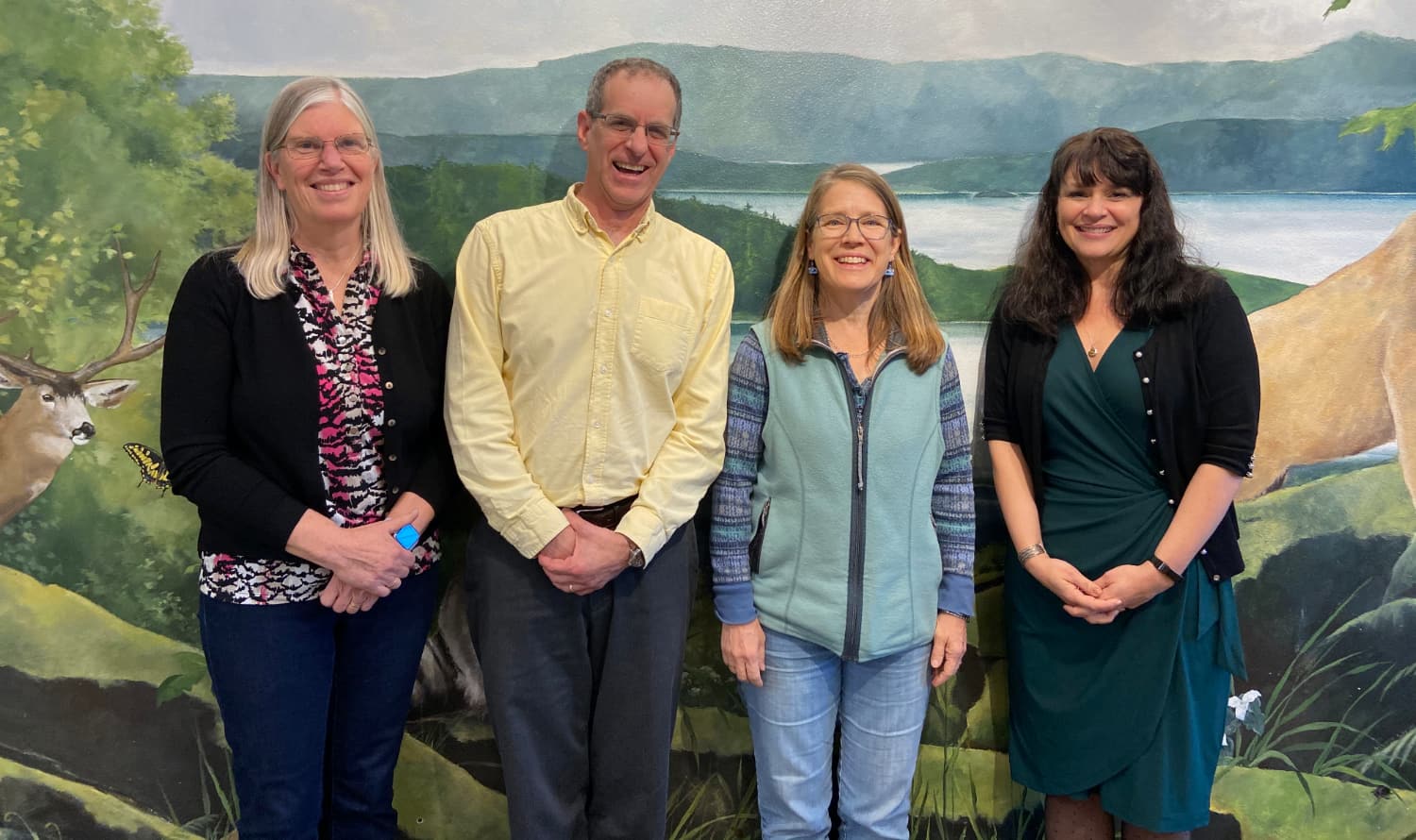 Dr. Rick Levine (second from left) with his Skagit Pediatrics colleagues.
Today, the Skagit pediatricians are finishing up a study with a team from the UW and Seattle working with parents struggling with vaccine hesitancy. Again, the clinic providers have been the study population as they received training in motivational interviewing and then observed to see if this impacted their daily practice in working with families. The clinic staff found that training became even more valuable as the study continued through the pandemic.
In working with research studies through UW and Seattle Children's, Dr. Levine says that the benefits are seen across the board: for the research faculty, the pediatricians and families. "It truly is a great opportunity for collaboration. The academic research teams are happy to have the opportunity to pursue their study questions in a population of children and families in our "real world setting". They have been a pleasure to collaborate with us – always respectful of our time and careful to build protocols that work with our workflows. They also are excited to provide learning opportunities that accompany the data collection and provide CME and MOC credits for this work.
"What's amazing to me is how generous the families are with their time," says Dr. Levine. "They're happy to answer questions. Usually they are interested in the studies as well and are open to helping. The research teams have built their protocols to make it seamless for the families, as they are seeing their regular doctor in an environment they know and trust.
The hardest part of participating in the studies? "Probably the hardest part is the times they want to videotape us in the clinic! None of us really like to be on video." Dr. Levine laughs, "but they assure us that they're not going to be seen by anyone other than the study team."
Dr. Levine finds the work required in participating in these studies is well worth the effort.
As many independent pediatricians are aware, relationships are the foundation of pediatrics. That extends to pediatric research: positive relationships produce happier physicians and staff, increase patient engagement, and best of all, healthy and happy families. In the case of pediatric research, Dr. Levine recommends that other practices interested in research use their relationships to establish the right connections.