Physicians spend twice as much time completing electronic health records (EHR) as they do treating patients, according to a new study by the American Medical Association. Researchers observed 57 physicians in four specialties (family medicine, internal medicine, cardiology, and orthopedics) and found that for every hour of direct clinical face time with patients, nearly two additional hours are spent on EHR and desk work within the clinic day. Additionally, another 1-2 hours of personal time were spent each night doing additional clerical work.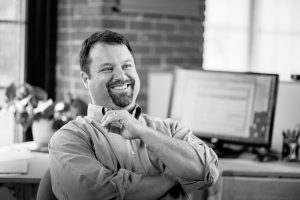 Chip Hart is an industry observer who has seen, first-hand, how much non-clinical time is necessary for doctors to meet the requirements of maintaining electronic health records. For the past 25 years, Chip has been the leader of the Pediatric Solutions team at Physicians Computer Company (PCC) which develops pediatric-specific practice management and medical record software.
"The results from this AMA study did not surprise me," he said in a recent interview. "In fact, most EHR platforms are not designed specifically for pediatricians. They are general 'tools' which are designed to appeal to a broad set of medical specialties. The 'one size fits all' EHR does not work well.
"Whenever I consult with medical practices, I am constantly surprised by how many hours a pediatrician spends charting at home. In the past ten years, many, if not most, pediatricians have added an hour or two to their daily work schedule. It is sad that almost no one is talking about this and this is why job satisfaction among pediatricians and general practice physicians is so low."
Calculating the Cost of EHR
The PCC website has an innovative tool for pediatricians to calculate their EHR return on investment. Hart explains.
"The physician can enter fundamental data, such as 'how many patients do I see every day' and 'how much revenue do I generate per patient' and then enter 'how much time does it take for me to chart each day?' The tool then calculates how much this EHR truly costs the physician in terms of time, money...or both.
The Nature of Pediatrics Requires More Time for EHR
While this AMA study did not include pediatricians, Hart's experience in the industry suggests that the medical specialties such as pediatrics require more time on electronic health record keeping.
"Sub-specialists have much lower patient volume than a typical pediatric practice." he said. "If each patient for a sub-specialist requires an extra minute or two to chart because of an inefficient EHR, it's not the end of the world. However, when you must see 30 patients a day, just to remain solvent, the clerical workload is much higher.
"The median income for pediatricians is about $180,000 per year," he noted. "And I know many pediatricians who make considerably less. These doctors work hard just to 'keep their doors open' and that's no exaggeration.
"Medical specialties which require more cognitive time with patients such as family practices, internal medicine and pediatrics do not lend themselves to time-saving templates for EHR. With pediatrics a great deal of time is required to have a conversation with the patient and recording these discussions can be a big challenge."
The Original Objective of EHR has Changed
Originally, an important intent of The Health Information Technology for Economic and Clinical Health (HITECH) Act was to improve care by making every patient's medical history available to all physicians. Unfortunately, its effect has been to reduce the amount of care being given. The PCC platform was designed to change this calculus by allowing pediatricians more time with patients and less time record-keeping.
"Unfortunately, sharing patient information is a very low priority for EHR systems," Chip said. These electronic records have become more about the 'business of medicine' and less about patient care.
"There are many things PCC does to make a pediatrician's life better and easier," Hart noted. "As we have noted, the services we provide are unique to pediatricians.
"For example, our system associates all of the members of a family. A physician might be examining one patient and he is one click away from the records of all the siblings. This allows the pediatrician to recognize a family-related illness or events and apply this knowledge to the current patient. With a click, a pediatrician can also push family histories to the appropriate related patients.
"We have several pediatric functionality features to our platform," he said. "We are the only vendor with valid Down Syndrome Growth Charts. We also have the most sophisticated immunization logic in the industry. Plus, we support the path to becoming a 'patient-centered medical home' (PCMH) better than any other vendor.
"The PCC platform is also more flexible for input of data," he said. "With many EHRs, concurrent access of the chart can be difficult. With PCC, the doctor can complete her chart notes for the patient while the nurse is in the exam room documenting administered vaccines or other services.
"Probably the most important benefit PCC brings to the pediatrics practice of medicine is our understanding that pediatricians are busy! We have an EHR that's fast, clean, simple and easy to use. It doesn't break up the narrative that occurs in every visit. The architecture is elegantly simple and it saves countless hours for a busy pediatrician.