Running practice management reports on a regular basis is a key factor in maintaining a healthy revenue cycle. Reports provide practice oversight by identifying areas where you may be unknowingly losing income. There are many types of reports, each providing a different lens through which to view your practice. Here are our Top 3 picks for essential reports you don't want to miss.

Report #1: Billing Error Report a.k.a. Claim Error Report
Category of Report: Billing Recommended Frequency: Daily - Every Few Days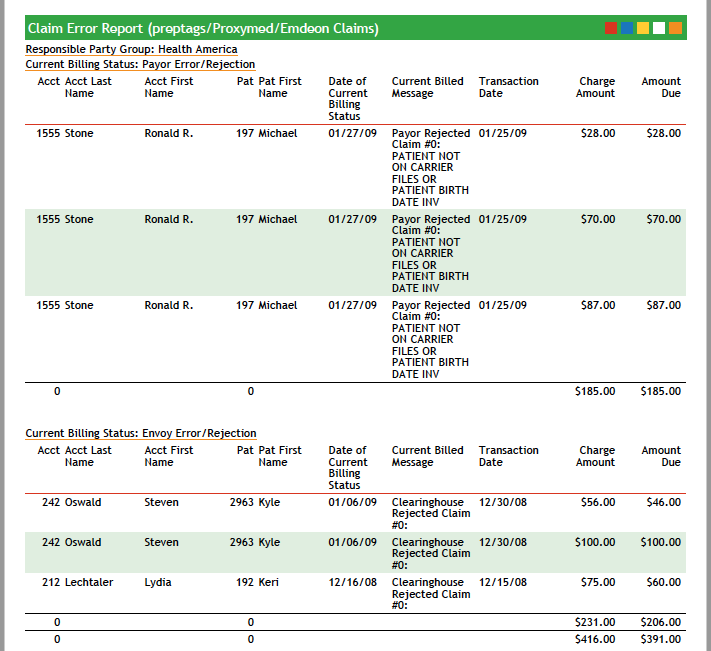 This billing report is key for reducing rejected and denied claims. Identifying claim errors in a timely fashion allows you to correct mistakes and receive full payment for your services. The great thing about this type of report is that it is designed to only show claims that have something wrong with them, thus eliminating the need to sift through every claim that has been submitted. When running this type of report from PCC's software, the results include both errors that are caught by the claims scrubber in our built-in clearinghouse, as well as payer response rejections for issues such as eligibility or non-covered claims.
Most practices are already running this type of report, but the ones that aren't are potentially leaving a lot of income on the table. Errors that are not followed up on in a timely manner can translate to money that will never be claimed. When this report becomes a consistent part of your workflow, you can catch and correct errors before they impact your cashflow.
Report #2: A/R Days
Category of Report: Accounts Receivable (A/R) Recommended Frequency: Monthly - Quarterly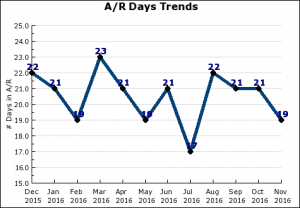 Everyone knows about Aging Reports, but lesser known and just as important is a measure of "A/R Days."
A/R Days is a calculation based on the practice's average daily charges over a certain time period. It compares those average daily charges to the total A/R for the practice and determines how many days of A/R you have outstanding. Keep in mind that average daily charges can vary seasonally based on visit volume during each season. Therefore, to capture a representation of your current A/R days status using a quarterly sample of charges is recommended. This is a high level report and we recommend that you can run it once a month to once a quarter.
Report #3: Payment Analysis Report
Category of Report: Billing Report Recommended Frequency: Monthly-Quarterly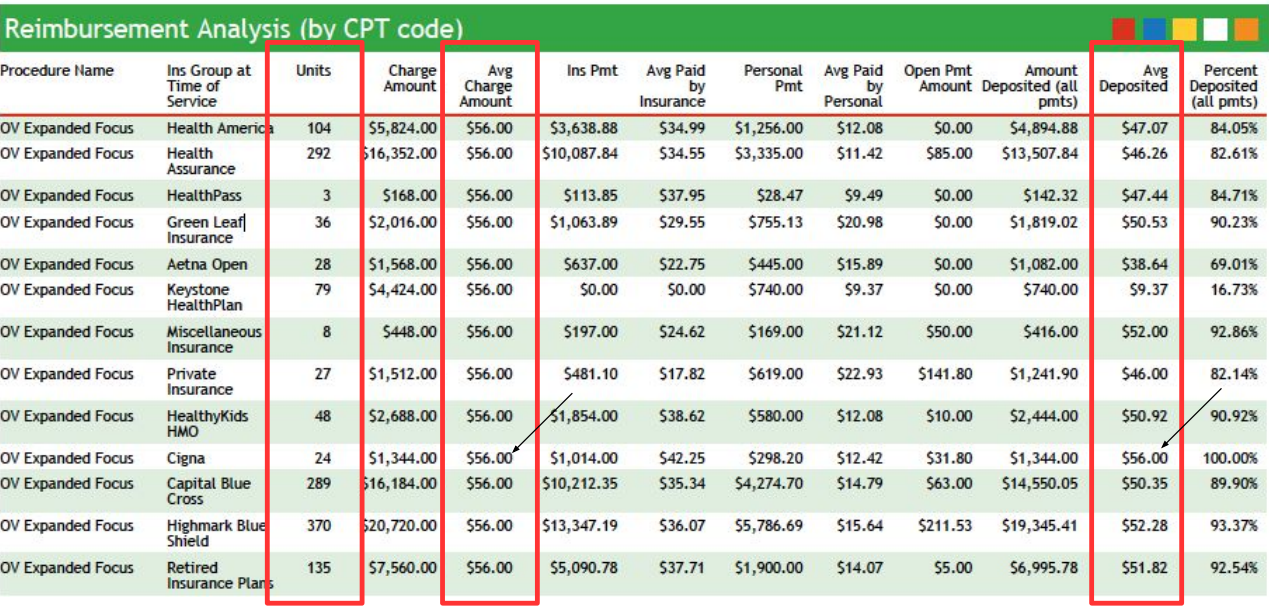 This report shows the average charge amount billed and payment amount received from each payer by CPT code. Cross-checking the average payment received across payers lets you compare average payment amounts from each insurance side-by-side.
We commonly see practices who set their fees too low. When your fees are set below payer allowable amounts, you are leaving money on the table. If a payer's average payment amount equals your charge, this is an indicator that you should increase your fee. For example, it is common to undercharge for vaccines. Providers tend to look at how much they paid to buy the vaccines, and set their prices based on that without realizing that some payers may pay substantially higher than the provider's purchase price.
---
There are many reports you can choose from to keep an eye on how your practice is doing clinically and financially. Deciding which ones are best for your needs, and then committing to incorporate them into your regular workflow is the key to success.
For more information on helpful reports, visit PCC Learn and download our Practice Oversight Reporting presentation.