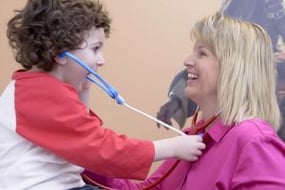 This week's post is by guest blogger Dr. Robin Warner. Dr. Warner owns her own practice, Union Pediatrics, in Union, KY. She has been part of the PCC "family" for five years. She is a member of the AAP Childhood Immunization Support Program's Project Advisory Committee and is co-chair of the SOAPM vaccine storage and handling subcommittee. This past year, Dr. Warner co-authored the updated Guidance on 2D barcoding for vaccines.
We are in the midst of the holiday season, and the timing is appropriate to discuss, in the spirit of "A Christmas Carol," Vaccine Management in the Pediatric Office.
Vaccine storage and handling, as well as vaccine purchasing and billing, have been hot topics recently, both on PCCTalk and off-list, among PCC clients.
The Ghost of Vaccine Management in the Pediatric Office "Past"
On night one, Dr. Scrooge is taken back in time to his office several years ago. He watches as one of his nurses, assigned to recording to refrigerator temperatures, dutifully records the temperatures twice a day. However she only records, and doesn't speak up when the temperatures were too cold a number of times over a period of two years. On a routine VFC visit the coordinator realizes this, and his office has to revaccinate two years' worth of children….. at his expense.
His next visit is to one of his satellite offices. Since the office is smaller, all he has there is a dormitory-style refrigerator/freezer combination. His nurse opens it. The freezer hasn't been defrosted in years. There is ice on some of the boxes which are jam packed into the refrigerator portion. Once again, multitudes of children will need to be re-vaccinated because the vaccines they were given were impotent. The office struggles to determine how many to revaccinate because no one knows how long the problem has been going on.
His last visit is to his billing office. His office manager isn't sure what to do. He thought that by buying direct from the vaccine manufacturer he was getting the best price on vaccines. But insurance payments are less than what the office is paying for the vaccines. Vaccine product is losing the office money. Not only that, some insurance plans aren't paying for the vaccines, and the family is left with the bill. And the families don't understand why they should pay for it.
Dr. Scrooge realizes how past actions have adversely affected him, his staff, and the children he cares for.
The Ghost of Vaccine Management in the Pediatric Office "Present"
The next night, Dr. Scrooge is again visited by the ghost. This time the ghost takes Scrooge to his current office.
His staff now has a VFC provided temperature documentation sheet, so that when there are temperature excursions they will notice and take the appropriate action. However, there was a weather-related power outage over the weekend and the refrigerator and freezer failed to maintain the appropriate temperatures. Because no one was in the office, the staff didn't know. The office won't have to revaccinate, but their current inventory is now worthless and will need to be replaced. Until the office can get new vaccine in, they will be unable to vaccinate their patients. This will result in the office needing to reschedule those patients who were due to receive vaccines.
In addition, there has been a recall of vaccine and the staff needs to call back the patients who received a particular lot number. They can't seem to find the particular lot number in question, even though the manufacturer states the office received 50 doses.
His next visit is to the billing office. His manager is in better spirits. The office has joined a GPO and is now getting better pricing on vaccines. In addition, the ACA has mandated vaccines be a covered benefit so the majority of vaccines given are being paid by insurance.
His last visit is to his office's break room. His staff is very discouraged. His failure to provide optimal storage for the practice's vaccines has led to repeated stress to the staff. They have to deal not only with the wrath of the VFC coordinator, but the frustrated parents who either have to revaccinate their children or make an extra trip to have their child vaccinated. They've heard the office across town has a vaccine refrigerator and freezer, as well as a monitoring system which notifies someone if the temperature is out of range.
Dr. Scrooge realizes that his staff's level of stress hasn't improved, and may be worse.
The Ghost of Vaccine Management in the Pediatric Office "Future"
In Dr. Scrooge's third night of "ghost visits," the ghost takes Dr. Scrooge to his future.
And his future is bleak. His office no longer exists. He had no choice but to close when, for the third time, his "residential" refrigerator failed and vaccines were rendered "destroyed." The state's VFC program required him to pay them back, again, and then suspended him from participation in the program.
His staff left him because they couldn't handle having to call more patients back to revaccinate.
He was forced to move out of the area and join a multi-specialty group, where he had to abide by someone else's rules.
The Conclusion
Dr. Scrooge is both appalled and frightened by his future, and vows to change things for the better.
He purchases a vaccine refrigerator and freezer, as well as a back-up for each, and a generator. In addition, he purchases a monitoring system which notifies someone in the office if there is a temperature excursion. Vaccine lot numbers are recorded via 2D barcoding technology so no errors in transcription are made.
He and his office manager review the AAP's Business Case for Vaccines, and regularly review insurance payments to make sure they are where they need to be.
Vaccines are an office's second biggest expense. Vaccines save lives. Practices need to ensure they are "caring for them" properly. So, at this time of year don't be Ebeneezer Scrooge. Invest in a gift which will protect the investment of vaccines… a vaccine refrigerator! Your staff will thank you. Your patients and families will thank you.
Be sure to check out this vaccine storage and handling resource from SOAPM.