The latest issue of Pediatrics (official journal of the American Academy of Pediatrics) includes a report on the use of Electronic Health Record systems (EHRs) by office-based Pediatricians. While EHR use has increased significantly since 2009 (79% using EHRs compared to 58%), the survey results indicate that only 31% of those users have EHRs with basic functionality, and only 14% that are "fully functional."
Big Practice, Little Practice - City Practice, Country Practice
The highest EHR adoption rate was among med schools, hospitals and clinics (90%), while the lowest rate was among one and two-physician practices (56%). Practices in rural settings had the highest adoption rate (87%), with suburban being the lowest (72%).
What Can An EHR Do For Me?
50% of respondents agreed that an EHR system is necessary to provide quality patient care (with 32.4% disagreeing). Those using fully functional and basic EHRs were more likely to consider an EHR necessary to provide quality care. Positive impacts on communication, practice management, immunization delivery, and chronic disease management were all reported by pediatricians using EHRs.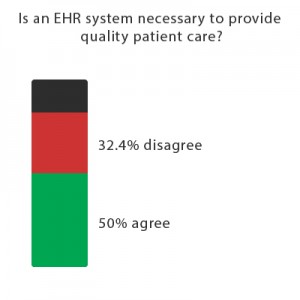 Pediatricians reported increased quality of care as a result of EHRs; 34% avoided a drug allergy in the past six months, 39.1% prevented potentially dangerous medication interactions, 41.6% provided preventive care, and 22% ordered recommended tests as a result of EHR use.
Pediatric-Specific EHRs
The report in Pediatrics indicates that lack of pediatric-specific EHR functionality (only 8% of respondents use EHRs with pediatric features) poses a safety risk to children. Not only that, but pediatricians without pediatric tools in their EHRs must develop workarounds, hampering productivity. As the report states, "not using EHRs that effectively support the care of children results in failure to achieve promised benefits of increased safety, decreased cost, and improved outcomes."
What pediatric tools does your EHR provide? What pediatric tools are on your "wish list"? Despite the fact that "substantial barriers to EHR implementation and adoption remain," EHR use among pediatricians is increasing. What would make this vital tool work better for you?