How many times have you said, "I've been waiting for weeks to get support to respond to my question." Or how about, "My vendor doesn't keep their promises." Or maybe it's something like, "After buying the system, we still pay fees. We have to pay to send messages. We have to pay to prescribe medicine. We have to pay to connect to a lab. We have to pay to connect to an immunization registry."
Switching to a different EHR system is never an easy decision. With so many different options and costs, you may suffer from 'analysis paralysis'. You know you need to switch – or at least you think you do. You promised yourself that the next time your current vendor did <insert your own phrase here> you were going to start looking.
For a pediatrician, the hidden costs that often come with switching to one of the "less expensive" solutions may cause more problems than you're currently having.
A while back, we created an EHR Shopping List to help you choose between different vendors. In it, we discuss doing your homework, like talking with your staff to create a list of your likes and dislikes.
There is another important tool you should have in your back pocket as well: KLAS. KLAS is a research company on a mission to improve the world's healthcare through collaboration, insights, and transparency.
KLAS does something that we can't do ourselves – independently survey our clients to ask them how PCC is doing. The results of our client's responses to KLAS led to PCC being named the KLAS Category Leader for the Ambulatory Specialty EMR segment of the 2019 Best in KLAS Software & Services Report. And we earned nothing less than an A - in each of their 6 major categories.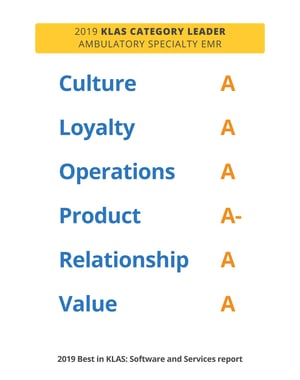 In fact, KLAS President Adam Gale says,
"The Category Leader Award carries with it the voice of thousands of providers and payers, highlighting vendors who have raised the bar."
This is very exciting for PCC, but what does this mean to a pediatrician researching new EHR vendors?
For you, KLAS has just done a large part of your homework. It's like skipping to the back page of your middle school math book to find the answers to all of the odd numbered questions. KLAS, like that textbook, won't give you all of the answers, but by researching what our clients currently say about us, aggregating all of the data, and allowing you to compare vendors, KLAS is giving you some of your answers.
Here's the best part – KLAS looked beyond the product and examined the vendor itself. Product is only 1 of their 6 categories. For example, PCC's scores in Relationship, Culture, and Value are arguably even more important than the Product grade. Even if the vendor had an A+ in product, would you want to pick a vendor with a Relationship grade of C?
It's probably one of the reasons you're looking for a new vendor now.