The 2022 Users' Conference was Physician's Computer Company's (PCC) most ambitious conference to date. While users' conferences have been a cherished annual event for years and there are a number of fun traditions, the 2022 conference had many new aspects for our pediatrician, biller, and office manager clients to enjoy, including a virtual conference and face to face conference hybrid structure, courses on humor, a chance to see AAP Presidents past and future speak, and so much more. Couldn't make it? Keep reading to find out how to access our conference lessons – and laughs – until 2023.
What We Learned, Face to Face & Online
There is always something new to learn for everyone at a PCC Users' Conference, and the 2022 event in Burlington, Vermont was no different. What was new and exciting in 2022 was that it marked the very first hybrid conference event hosted by PCC – we were proud to welcome online and face to face attendees. From the future of billing at PCC, the opportunities of pediatricians in advocacy and in political office, to the goals of the American Academy of Pediatrics for children, we learned a lot.
We were proud to welcome a diversity of speakers to the 2022 conference, including immediate past-president of the American Academy of Pediatrics Dr. Colleen Kraft, as well as president-elect Dr. Sandy Chung, who both looked at the big picture of practicing pediatric medicine. Dr. Kraft took a look at caring for migrant children and their families, and some of the most common symptoms and challenges they present with, and the trust required for pediatricians to be able to deliver much-needed care. Dr. Chung spoke to the need for pediatricians to be allies and advocates for mental health care and suicide prevention.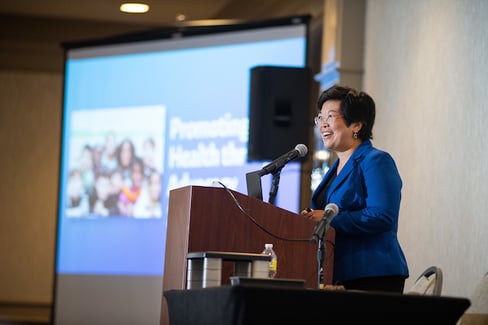 When keynote speeches were over, pediatricians, office managers, and billers flocked to their respective courses. Some were PCC-focused: attendees sat with PCCers Kayla Robinson, Bastien Gliech, and Dan Gillette to learn about PCC's new forms solution to help practices get more out of form letters; they learned about the latest in coding and billing from resident expert Jan Blanchard; and they learned front desk best practices with Lynne Gratton.
Many of the things practices love about PCC were accessible in person, too – physicians and office managers got to sit in on sessions with their support team, asking questions and improving their workflows. The popular Billing Drop In event was even held in person!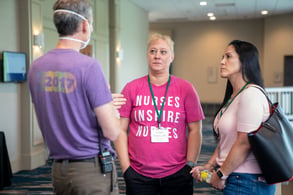 PCCers certainly didn't steal the show, however. We welcomed many pediatricians to the stage to share their invaluable experiences and reflections on pediatric practice, business management, advocacy, and more. Dr. Katie Schafer of Bloom Pediatrics and city councilor of Birmingham, MI encouraged other physicians to consider running for office. Dr. Nneka Unachukwu of Ivy League Pediatrics of Georgia shared the value of entrepreneurship inside and outside of the exam room to enact change through powerful ideas. Dr. Todd Wolynn, CEO and pediatrician at Kids Plus Pediatrics in Pittsburgh, PA called for action through social media to help combat misinformation and keep families informed and engaged all year long.
How We Celebrated: Resilience and Rejuvenation
It's not a PCC conference without some fun, laughs, and of course, many opportunities to network with old colleagues and new. In 2022, there was a special air of celebration after two years of virtual conferences and the incredible work of pediatricians to keep children healthy during the unpredictable course of the COVID-19 pandemic. Here's how we celebrated together, and committed to the conference's themes of resilience and rejuvenation.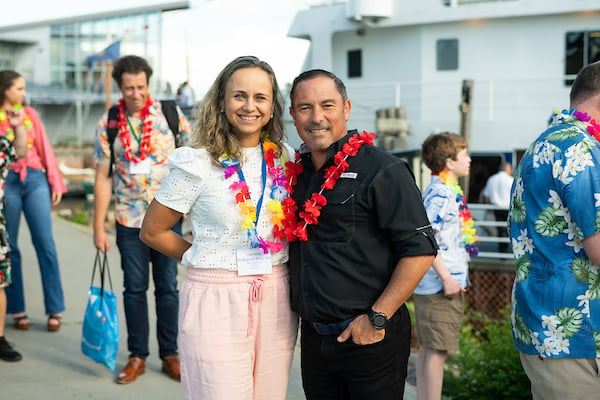 Rico Pediatrics ready to set sail!
Coming Together
The first and best reason we celebrated is the simple fact that we were able to greet many clients and friends in person for the first time in many months. Guests, pediatric vendors, and practice staff mingled and shared advice and knowledge, but also plenty of laughs. New this year was a Humor in Medicine course with PCC's Jim Smith, a Client Advocate who knows all too well that along with the most difficult challenges of practicing medicine are many moments of laughter, which he encouraged attendees to share.
While there were many moments of laughter at the conference, some of our favorite highlights were the Dance-Off team led by Dr. Katie Schafer of Bloom Pediatrics during Wednesday's lunch break, and the PCC entertainment team's fantastic video parody. Check out both videos!
A flash mob dance party led by Dr. Katie Schafer of Bloom Pediatrics!
Fun fact: lyrics, music, and singing were all recorded by PCC employees. We're a multi-talented group!
Setting Sail
On Thursday, attendees set off on the Big Bash, the night of the conference pediatricians and staff are encouraged to invite guests and take a moment to rest and have fun. This year, attendees set sail on the Spirit of Ethan Allen, a lake cruise across beautiful, scenic Lake Champlain. Guests enjoyed the beauty of a Vermont sunset and professional networking relaxed into camaraderie and plenty of fun.
Proud to Serve Pediatricians
PCC is proud to put on the annual Users' Conference both as an opportunity for pediatricians to grow their practices, and to celebrate the accomplishments of the previous year. We are honored to have clients that tell us they are as proud of our work as we are of theirs. We hope to continue to earn this high praise next year, and every year!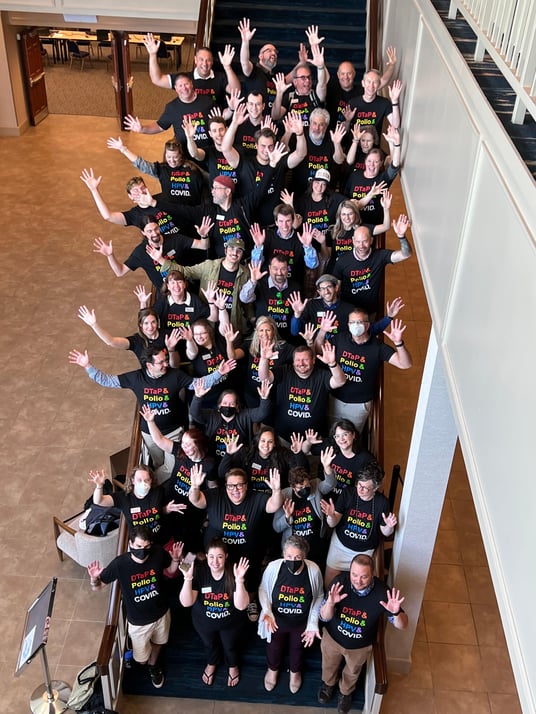 PCC employees sporting vaccine-proud tees and celebrating another wonderful Users' Conference!

If you missed any of the Users' Conference – we don't blame you! There was plenty going on, and pediatric practices were still busily operating. PCC clients and pre-registered guests can still access the conference's courses, links, messages, and photos on the PCC UC 2022 app. Missed a course or want to double check your notes? Access the recordings of our expert speakers on the PCC Youtube channel. Third party courses from our guest speakers will be accessible until 2023. Be sure to watch them before they're gone!