Retail and urgent care clinics present a growing segment of healthcare for many Americans. Today, retail clinics can be found in many box stores and local pharmacies, including CVS, Walgreens, and retailers such as Walmart and Amazon. And convenience, accessibility, and cost are only continuing to shape patients' decisions for care locations.
Here are six strategies for independent pediatricians to engage families tempted by the convenience of urgent care clinics and retail centers.
Quality of Care Drives Concerns
Retail clinics are usually staffed by Nurse Practitioners (NPs) and Physician Assistants (PAs), typically charge less than private practices, and have been thought to prevent increases in Emergency Department (ED) visits (though data shows no direct correlation between retail clinics and declines in [ED] visits). As of 2018, there were more than 2,700 retail clinics across the United States, accounting for more than 40 million patient visits every year.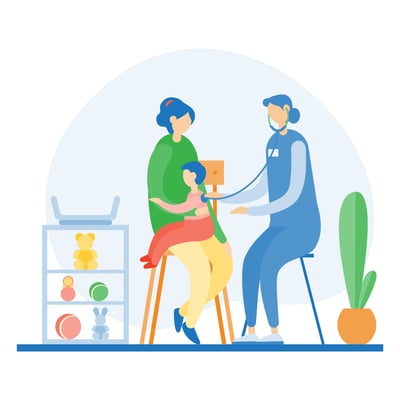 An increase in retail clinic pediatric visits negatively impacts the medical home concept of care coordination, leads to a decline in pediatric practices' revenue, and makes it difficult to achieve complete record-keeping. And concerns exist that retail clinic providers are not specialty-trained in pediatric care, do not coordinate follow-up care, and can create a fragmented care experience that doesn't focus on chronic care management. In fact, the American Academy of Pediatrics (AAP) opposes retail clinics as an acceptable setting for infant and child medical care.
So how do pediatricians maintain relevancy amongst current and emerging retail clinics?
When Are Pediatric Patients More Likely to Visit a Retail Clinic?
The majority of parents who bring their child to a retail clinic for:
Sick visits

Immunizations

Preventive care (e.g., sports or camp physicals)
Each visit that a child attends at a retail clinic is one less visit that is completed at your practice — meaning you don't have easy access to the care your patient received and cannot track the visit (leading to incomplete patient chart information). It also means lost revenue for your practice and puts distance between you and your patient.
As retail clinics invest in new technologies to improve data sharing, offer telehealth, and personalize visit experiences, they only increase the competition for many pediatric practices. And with many patients becoming more familiar with retail clinic care during COVID-19, including drive-through testing, these clinics may now stand out as a viable option for care more than ever before.
6 Ways Pediatric Practices Can Compete with Retail and Urgent Care Clinics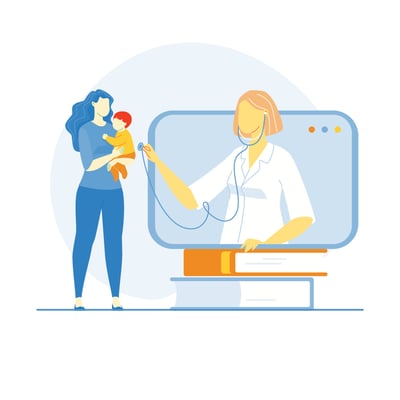 1. Telemedicine options: Offering telemedicine promotes convenience while keeping your patient and their family within your practice. It also helps you maintain a complete record and assures that appropriate care is delivered in accordance with each patient's unique care plan.
2. Patient-friendly services: Determine what patients and their families really want (and how they decide how to receive care). Transparency, flexible scheduling, evening and weekend hours, same-day appointment availability, and one-stop service offerings (including pharmacy and vitamin options) are paramount.
3. Stand out from the crowd: Access, convenience, respect, and reputation are key drivers for care preferences; however, care quality, a comfortable space, patient education, and pediatric event sponsorship can help. Engage and embrace social media — your patients use it.
4. Embrace business fundamentals: A practice is a business. That means that it's critical for you to keep a thorough focus on your business strategy, your competition, understanding and promoting your value proposition, and creating a growth strategy that is strongly aligned to your practice's mission.
5. Detailed practice performance metrics: Supporting business fundamentals means a keen understanding of what "things" really cost. It is imperative to understand:
Collections
Days in A/R
What each patient, encounter, and product costs your practice
How each CPT code maps to a specific RVU level
6. Patient engagement focus: As patients want more control managing their health while engaging with a trusted provider, patient portals, concise information, and detailed resources are required. Patients seek out providers that provide digital accessibility and offer an opportunity for self-management.
At the End of the Day, Focus on Your Patients
As more and more healthcare costs are shouldered by consumers, patients and their families are demanding a detailed understanding of the value proposition, whether informational, cost-based, or treatment-focused. When pediatricians understand healthcare consumers' needs, they have an opportunity to connect with patients and their families in a meaningful way, support the medical home concept, and assure financial viability for their practice.