Over 5 million children have asthma in the United States, according to the Centers for Disease Control and to the Asthma & Allergy Foundation of America (AAFA). With roughly 60,000 pediatricians in the U.S. according to the AAP, that equates to about 7% of children in every pediatric practice in the country. With the right precautions and plans in place, children with asthma can lead healthy and safe lives. Has your pediatric practice updated your asthma care plans recently? As we'll cover below, pediatricians have plenty of resources available to better support children with asthma, from effective and consistent therapies, recall strategies, action plans, and access to education for providers as well as families.
Why it Matters: The Current Status of Asthma Care
As pediatricians are well aware, asthma can be well controlled with consistent care and monitoring. While current therapies for asthma were approved in 2007 in the Guidelines for the Diagnosis and Management of Asthma Expert Panel Report 3 (EPR-3), anticipation of updated guidelines in an Expert Panel Report 4 (EPR-4) offer an opportunity to review current best practices.
Another good reason to update asthma care plans is the prevalence of poorly controlled cases. A July 2020 update from the American Academy of Pediatrics states that up to 40% of childhood asthma patients have asthma that isn't well controlled due to "medication non-adherence, uncontrolled triggers, comorbid conditions and under-prescribing". The AAP continues that the best asthma treatment "achieves asthma control, preserves lung function and minimizes side effects."
Asthma has wide-ranging effects on a patient and their family. Asthma attacks can lead to missed school days -- 13.8 million in 2013, according to AAFA. Along with missing school, patients spend more time in emergency rooms and urgent care centers, and the need for hospitalization or transportation can result in loss of work and income for caregivers. Research also shows increased disparities in the health outcomes of asthma in minority populations, displaying a key need to improve systems and policies at federal, state, and local levels.
Improving Pediatric Asthma Care Plans
As key healthcare supports and advocates for communities, pediatricians can play a variety of roles in the improvement of asthma research, advocacy, and care. Logistically, a review of your asthma care plan will cover many areas of practice, including medications, patient management and patient recall efforts, family and community education, advocacy, research, and continuing clinical education.
Medications
Updates in asthma care, including approved medications, will expand with the release of the EPR-4, but changes have occurred since 2007. The Global Initiative for Asthma (GINA) maintains that controller therapy is necessary for most patients, except those who experience an attack less than once a month. The only bronchodilators approved in the U.S. are albuterol and levalbuterol. In 2020, the Food and Drug Administration approved a generic albuterol inhaler, which could decrease costs and increase access to this medication.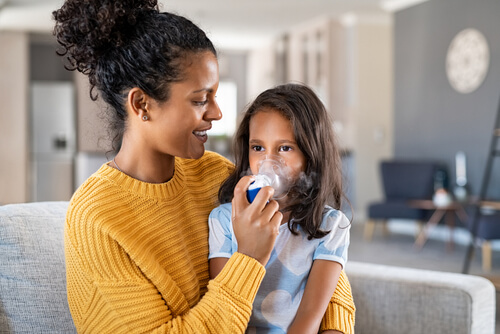 A nebulizer is often helpful for younger patients or those who struggle with an inhaler. Support from caregivers is always a must!
The combination of low-dose inhaled corticosteroids (ICS) and long-acting beta-agonists (LABAs) "are more effective than higher doses of inhaled steroids to help control asthma symptoms and inflammation," according to the AAP's 2020 update. Age use guidelines and dosages were also listed in the update.
Patient Management and Recall Efforts
A crucial part of a child's asthma management care plan is regular visits to the pediatrician. The frequency of these visits will depend on the severity of the asthma as well as comorbidities. While it's a great idea to periodically complete a patient recall project for a practice's entire population, here are some considerations for an asthma patient recall plan your practice could choose to adopt:
Require a recent visit before refilling prescriptions
Presumptive scheduling of an asthma assessment after each well visit, or during each well visit
Requiring follow up after an insurer notifies that a patient may not be adherent to medications
As consistent access to medication and their pediatrician is so important for asthma patients, a balance between a regular recall schedule and meeting families' needs such as transportation, school and work attendance, and affordable deductibles and medication costs, is necessary.
Within the office, an office-wide care plan for chronic diseases such as asthma can help keep track of asthma patients' progress and ensure consistent support. Tracking a care plan within a patient's chart, EHR alerts for users entering the chart, and specific asthma care visit protocols can help keep your practice's asthma patient management consistent with your workflows.
Patient Education
Education is critical in helping families understand medications, how to use asthma devices, and sharing essential information with other caregivers and educators. Here are some indicators that further teaching may be helpful:
After a child has entered the ED or urgent care due to asthma symptoms
If reported usage of medications has changed
If a parent or patient's demonstration of their medication or the patient history indicates uncertainty, lack of knowledge, or discomfort using prescribed medications
If a patient avoids exercise or other activities or avoids using medications before exercise
Some great resources for pediatricians and families include the AAFA's Healthy Home Checklist to protect and prevent common irritants that can worsen asthma such as mold, dust, and allergens. AAFA also has a provider resource page, which lists home, office, and class resources for healthcare professionals to use and share with families.
Other great resources include the AAP's Healthy Children website, which has articles on medications, asthma triggers, and asthma action plans.
If your practice is interested in continuing education for a pediatrician, nurse, or other healthcare professional, there are many options available, including the GINA Academy course, this course on environmental asthma management from the CDC, and AAFA's course for nurses and respiratory therapists. These courses offer pediatric continuing education credits, as well as offer insight into current research and how asthma patients are cared for in other pediatric settings.
Communication and consistency around asthma education and care can help ensure that a child has support wherever they are, and can eventually learn how to manage their own medications and triggers. As research reveals more about asthma and more therapies and medications are introduced, a robust asthma care plan is a must for any pediatric practice. Much of asthma care includes crucial preventive visits, but did you know that preventive care is the cornerstone of your practice's financial health? Learn why in this webinar with PCC's Chip Hart.