At the time of this writing, 46 states have implemented school closures in response to the COVID-19 pandemic. Social distancing is a crucial tool in flattening the curve of the pandemic and protecting health and lives. With kids and families at home, here are practical resources for parents and pediatricians to keep kids happy, healthy, educated, and safe as we do our part and #stayathome.
Educational Resources
No matter their homeschool or work situation, parents can rest a little knowing that there are resources available for kids to learn and work while they are safe at home. Whether students are given work to do at home or parents are searching for an impromptu homeschool curriculum, here are a few resources to get families started.
Children's publisher Scholastic is offering 20 days of educational resources by grade level for kids. Educational library resources Tumblebook and Tumblemath are also offering free services for American kids during the pandemic. Don't forget your local library -- many offer e-resources as well as audio, video, and of course physical books for kids.
Education at home doesn't have to mean formal studies. Baking, playing board games, making art, and observing nature outside can allow kids and teens to expand skills, relieve stress and boredom, and keep active.
Safety in Social Distancing
In this video from Kids Plus Pediatrics, Dr. Todd Wolynn explains why social distancing is so important for everyone to practice, even if your kids aren't considered high risk.
Parents and families should follow the CDC's recommendations for safe habits at home and at school. This includes keeping a distance of 6 feet between people in public or between people who suspect they are ill, staying home from work and school, and frequent and thorough handwashing. Parents who work for an essential business -- be it healthcare, delivery, or public services -- should take additional measures to protect family members while at home.
Pandemic preparedness can be difficult, but they are important for all families to observe. These social distancing measures are crucial in order to "flatten the curve," or the predicted rise in COVID-19 cases, in order to ensure the healthcare system can adequately care for the cases that do appear, as the graph below shows.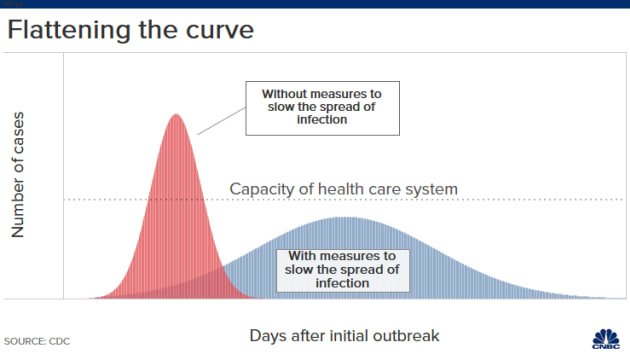 For older kids and teens with more independence, it's crucial to stress that they stay home in order to protect themselves and others. According to Donna Hallas, PhD in a recent piece in Contemporary Pediatrics:
"The time is now for parents to establish firm rules for teenagers and young adults in their households to assume personal responsibility for their actions and how they may adversely affect the lives of their family members… Parental support, in particular, establishing the rules and enforcing them, is critical to achieving the academic goals for each child, adolescent, and college student."
Mental and Physical Health Resources
Caring for physical and mental health during a quarantine or voluntary isolation helps kids and families feel connected and safe, even during a time of crisis. Pediatricians can help by moving their advice and support online. By being active on social media, physicians can inform their community on government updates, office hours, well visits, advice, and of course, the availability of both in-person and telemedicine visits.
Health at home can take a variety of forms. It could look like family yoga, walks outside, cooking healthy meals together, and practicing safe distancing and handwashing. However, it's important to address kids' stress and concerns about the novel coronavirus and to try to alleviate parents' pressures, too. The Center for Disease Control offers this advice to share honest, accurate information with children and teens about COVID-19.
Novel Coronavirus in Children
According to a study by the American Academy of Pediatrics in early March 2020, children are less severely affected by the novel coronavirus, with "nearly 6% of the children's cases severe or critical compared with 18.5% of adults".
Currently, it is unclear whether children can act as vendors to the virus without becoming symptomatic themselves. However, while more than 90% of all pediatric patients tested were asymptomatic, the infection does appear to affect vulnerable infants and young children.
In order to protect young infants and children and to lower the spread of infection, the methods of social distancing and caution outlined above are crucial for all American families.
The Risk of Child Abuse
In a press release on March 23rd, 2020, the FBI warned that during the increase in online activity due to school closures and families remaining at home, there is an increased risk of online child abuse and sexual exploitation. According to the release:
"Abuse can occur offline through direct contact with another individual. During these uncertain conditions, where time with other adults and caregivers has increased immensely, parents/guardians should communicate with their children about appropriate contact with adults and watch for any changes in behavior, including an increase in nightmares, withdrawn behavior, angry outbursts, anxiety, depression, not wanting to be left alone with an individual, and sexual knowledge."
Pediatric providers should be cognizant of the signs and symptoms of child abuse during this hectic period. Beyond local resources, organizations such as EndViolence.org and PreventChildAbuse.org have tips and advice for prevention and reporting of suspected abuse.
Telemedicine and More Resources for Pediatricians
PCC is working to update regularly with resources and updates for all pediatricians working to contain and treat children affected by the COVID-19 pandemic. For resources on telemedicine, SNOMED codes for COVID-19, and more, please visit our COVID-19 information page.