To prepare to reopen your practice to in-person visits, a surge in immunizations, and more familiar summer tasks such as sports physicals and water safety, it's important to make sure your practice has the right workflows, templates, protocols, and mindset to tackle a busy summer.
First, A Look Under the Hood
Many independent pediatricians across the country are experiencing lower patient volumes than normal, both because of stay-at-home measures making parents nervous to schedule visits, and because the measures are spreading fewer infections. However, according to experts like Paulie Vanchiere of the Pediatric Management Institute and PCC's Chip Hart in their Business Impact of COVID-19 webinar series, patient volumes can reasonably be expected to increase this summer, which means that now is a prime opportunity to prepare for the surge.
It's tempting to jump straight into marketing physicals and refreshing your stock (more on that in a minute), but before you get into the practicalities of a summer surge in patients, it pays to check under the hood of your practice vehicle and make sure that the engine is ready to run smoothly.
Workflows
Take a look at a visit from start to finish. How would a patient experience it? Where do delays in a physician's schedule most often happen? Along with the advice from the AAP on workflows, consider these possible points for workflow improvement. Be sure to consider where you can improve workflows for in-person and telemedicine appointments.
Making the appointment: If your front desk staff is using spare time now to recall patients proactively, how can they continue to do so when the phones start becoming busy again? Consider scheduling regular emails or blocking time for recall calls.
Preparation for the appointment: Some PCC clients practice measures to improve prep times and make the appointment a cheerful one. Examples include drawing the patient's name on the exam table paper, pictured below at Pearland Pediatrics in TX, or competing for the best time in prepping vaccines.
Processing insurance and payments: If you collect copays at the time of service, does it make more sense to collect it before the visit or after? When will outstanding balances be collected? For more revenue cycle questions and advice, check out PCC's webinar on the subject.
Preparing for delays: Delays are unavoidable, so how your staff communicates with each other and with patients can improve not only the physician's schedule throughout the day, but help the patients' experience too.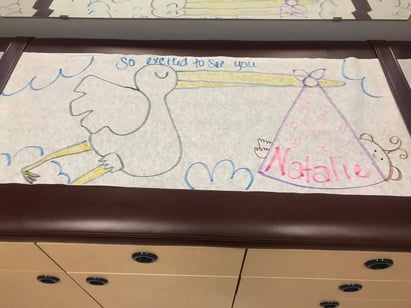 Templates
Templates, like workflows, work best when they are tailored to the individual needs of the practice and providers. Whether or not you use a pediatric-specific EHR like PCC's, your templates should definitely be pediatric-specific.
Pediatric-specific templates can help you better accomplish pediatric-specific goals such as PCMH, review a patient's health more easily with pediatric growth charts, Down syndrome charts, documenting immunizations, and much more. Check out our previous post on templates and review your own to see if they're in need of an update. Remember -- templates should be designed for the provider using them!
Preparing for a New Vaccination Season
Vaccine season goes all year long for pediatricians, but thanks to stay-at-home measures keeping families at home, it's more crucial than ever to prepare for a surge in immunizations this summer.
Immunizations Orders
Now is a great time to check your stock and determine what vaccines to order. You can even run a report on your EHR to see how your patients are doing with their vaccines and make a more educated order. For PCC clients, this is the Immunization Administration Details report, available in the Report Library. Also useful is the Vaccine Lot Report, which identifies all patients who received a particular vaccine lot within your chosen date range.
Staff Training
During an influx of patients, it's possible to miss things. Prepare your staff for success by reviewing proper vaccine storage, handling, administration, and recording. For a refresher, check the CDC's Vaccine Storage and Handling Toolkit. Some of their suggestions include:
Reviewing Standard Operating Procedures when new vaccines are ordered, during employee orientations, and annually.
Designating a primary vaccine coordinator to oversee storage and handling.
Keeping SOPs for standard use and emergency SOPs near vaccine storage fridges
Vaccine Lot Management
Get organized beforehand, and your vaccine state registry will be one less matter to worry about. Check that your state registry matches your records -- for your state's Immunization Information Systems (IIS) support, click here. PCC EHR users can manage their vaccine lots in the Vaccine Lot Manager under the Tools menu.
Summer Safety and Sports Physicals
New Considerations for Safety
It's unclear as of this post's writing how many summer camps and activities will be shut down for the summer and what states will be affected, but it is certain that many kids will have a less structured schedule than past years, which means they're likely to have more unsupervised free hours and may be more at risk for injury and exposure to COVID-19.
During an interview for The New York Times, AAP President Dr. Sally Goza, MD reminded parents that while individual states' reopenings make stifled families yearn to go out in public, precautions against transmission of COVID-19 are still crucial. Masks, social distancing, socializing in open spaces, and hand washing are important topics to cover with children eager to get outside.
"Summer is going to be different," Dr. Goza acknowledged. "We just need to be kind to each other — people are going to have different ideas, and we need to try to be considerate about what other people think, knowing we have to do what's right for our families."
With these precautions in place, reminders on safety near water, in the sun, around bugs, and more can be found at the CDC.
Sports Physicals
Due to the COVID-19 pandemic, many school athletic associations are waiving the requirement for a 2020-2021 sports physical for student athletes. While visits for immunizations are expected to rise, well visits may not. To get ahead of this drop, pediatric offices can start recall and communication efforts right now.
You might begin by recalling athletes early, before requirements are waived. You may also consider a campaign on social media, via email, and on your practice website to celebrate student athletes and encourage them to make the appointment.
Some reasoning you could consider when talking to families: sports physicals are an important preventive well visit for active adolescents, and also mark an opportunity to speak with them about their mental, emotional, and sexual health.
Preparation as Prevention
Benjamin Franklin said in 1736 that "An ounce of prevention is worth a pound of cure." As physicians, you know that preventative care is the foundation of a patient's health. Offer the same well care to your practice by preparing for a summer that, while unusual, is a huge opportunity for the pediatric community to protect and care for their children. For more advice on prepping your practice's preventive care, check out PCC's webinar, hosted by Chip Hart: "Preventive Care is the Most Important Work Pediatricians Do".