Dr. Nelson Branco of Tamalpais Pediatrics had produced educational video content before on popular topics for families such as feeding picky toddlers, colic, and sleep schedules. So when he began to see floods of questions about COVID-19 risks and safety measures, he knew a video would serve to both to invite parents' questions and bring answers to their Marin County, CA community.
About the Positivity in Pediatrics Series
This post is part of PCC's Positivity in Pediatrics series, a collection of stories about pediatricians and pediatric offices thriving throughout the changes made necessary during the pandemic.
This week, we spoke to Dr. Nelson Branco, FAAP, to learn about his practice's new collection of online videos and webinars designed to help answer families' most pressing questions about COVID-19, playing outside, and dealing with pressures of online work and school.
Answering a Community's Call
Since March 2020, the practice has produced 6 COVID-19-related webinars hosted by Dr. Branco and guests ranging from his partner pediatricians to public health officials, to a local infectious disease physician, to Dr. Branco's wife Nell Branco, a licensed school counselor. With Ms. Branco, Dr. Branco, and two other therapists, the practice released a webinar titled "Weathering Emotional Storms While Sheltering in Place," pictured here.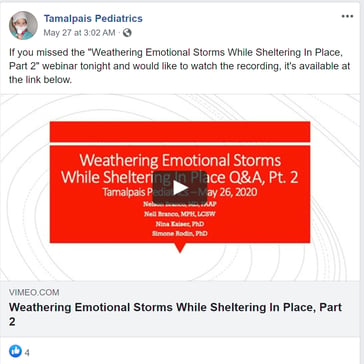 Dr. Branco says this video was a hit. "Four times as many people signed up for that one as had signed up for the average." The video was popular not only with local families but with Dr. Branco's colleagues across California and the country. Tamalpais Pediatrics received so many questions that they hosted a second part to the webinar.
Videos as Resources, Reenagement, and Reassurance
Dr. Branco recommends making educational videos as a way to reach many patients at once, especially when so many are concerned with similar questions. "I really think that this is a useful way to get information out. It's a great way to reach lots of people even in a situation where not many people are watching it live." According to a 2019 survey by video production company Wyzowl, videos can increase the time users spend on your page, increase website traffic, and help customers get a better idea of their services.
Video resources are useful during a visit when Dr. Branco can reassure families and offer the video as an additional resource. The videos are accessed on the Tamalpais Pediatrics website with a password only provided to patients, which contributes to the sense of the videos continuing their private patient experience.
"If I'm talking to a family that has concerns about their toddler's diet," says Dr. Branco, "I can give them the password for this video where our nutritionist for 45 minutes goes into lots of detail about what toddlers are like and eat. That's been a time saver. It's been great."
The practice has also shared more "behind the scenes" videos of staff practicing safe hand-washing, wearing masks, and washing their hands, as pictured below. Dr. Branco's goal is to engage patients with these videos shared on the practice's Facebook page, and says that doing so shows the personality, expertise, and humanity of the practice online. "People get to see what we believe in, how we're going to support their families in our practices, and what kind of information we rely on when we're giving advice."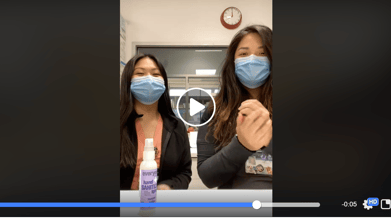 Now Showing: Your Practice Here!
Should your office give educational videos and webinars a try? Dr. Branco's vote is an enthusiastic yes. "The truth is, doing something is better than doing nothing. As long as everything you do is sincere with the theme that you're trying to get across and everything has a consistent message, it will connect with your patients. That's all. You don't have to do it as well as the superstars. You just have to do it better than you're doing today."
Tamalpais Pediatrics is one of the many pediatric practices answering the unique needs of their communities during a health crisis. In a previous "Positivity in Pediatrics" post, we asked Pearland Pediatrics in Pearland, Texas about their video and social media efforts. Despite being new to the idea, they continue to learn and find success with their efforts. Learn about their social media journey here.