Whether you're searching for a new EHR or you're the office expert when it comes to reports and features, it pays to get familiar with the EHR you're using to get the most from it. Of course, with lots on your to-do list, it can be easy to miss some awesome but perhaps low-key features, especially when there's an update. Here's 5 often-overlooked features to look out for in your pediatric EHR that you don't want to miss.
Online Support Advice and Online Forum
It happens to everyone -- you're stuck in the midst of finding a solution to a specific problem, but where should you turn to look for help? While colleagues are great assistants, during a busy day you might want some more immediate help.
While you can always contact PCC Support by phone or email and open a ticket, PCC EHR has instant answers to many common questions in PCC Learn, the website home to everything PCC. Enter your question or topic in the search box and you'll be directed to a page that outlines clear instructions for the feature or report you need.
Want some insider information? You can also pose your question to PCC Talk, the forum exclusively for PCC users to exchange ideas, tips, and advice. Whether you want to start a drive thru flu clinic or simply want some coding advice, PCC Talk is a great place to start.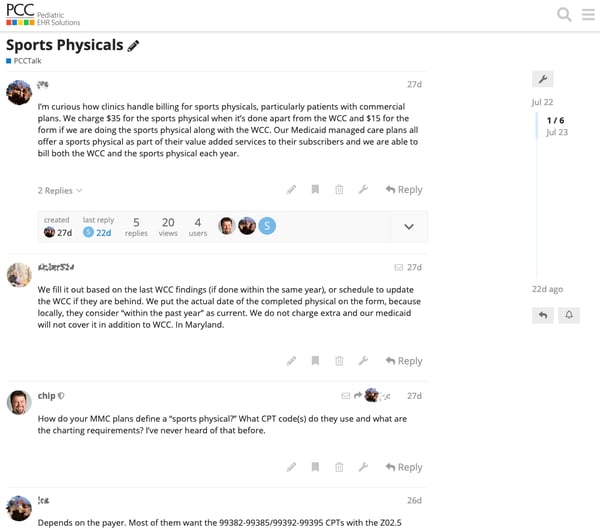 User Roles for Security and Workflow
For security and for efficiency, it's important to give the right people the right tools in your EHR. To do this in PCC EHR, you can assign user roles. Don't worry -- we know that your practice runs in a unique way that works for you. That's why you can not only assign one or multiple roles to each user, but define what each role is able to do in PCC EHR. This can help your practice thrive in any situation.
For example, if you have an "Office Manager" role but there's a crossover between clinical and administrative duties, a nurse can have both "Nurse" and "Office Manager" roles to get admin tasks done between patients. Or, if you're welcoming new people to the team, create a "Training" role so that actions can be added as the trainee becomes an expert.
Worried about multitasking and teamwork with multiple roles? According to the Harvard Business Review, teamwork really does make the dream work -- shared goals, common structures, and varied abilities make teams that solve problems and do great work together. When assigning your roles, keep your teams top goals in mind, as well as the strengths of individual members. While your team will use many common features and tools, no one person will use a pediatric EHR the same way.
An Optimized eRx
Pediatric prescriptions are so different from adult prescriptions that a pediatric electronic prescription solution is a game-changer for any pediatrician. However, no matter your eRx solution, if it isn't tailored to your practice it's not doing the best it can. PCC offers the only native pediatric-specific eRx for pediatricians, proving that eRx doesn't have to be complicated.
eRx solutions remove transcription errors, support drug comparisons before the patient leaves the office, and prevent dosing errors. Optimizing your eRx's dosing suggestions, however, makes this even easier. With PCC eRx, you can make searching for medications and doses even easier by hiding the ones you won't use.
Want to search for medications for common problems? You can build shortcuts such as "allergies" to find all the drugs for an allergy diagnosis your practice deems appropriate, and review multiple options at once to find the one you want more efficiently. Don't worry -- you can find recommended doses based on weight in kilograms, because that's how an eRx for pediatricians works best.
A High-Powered Scheduling Tool
This tool isn't exactly hidden, as almost everyone will be in and out of your scheduling system many times a day. But a great scheduler is a stand-out EHR feature with tons of perks hidden in plain sight. When you're running a busy practice, you'll want every time-saving feature possible within tools like PCC's Appointment Book.
Visual, color-coded calendar so you can see what each provider's schedule looks like by day, week, or month
Appointment reports so you can see what you're in for during a daily team huddle, a monthly review, or reviewing appointments over the last year
Auto-launch feature -- whether you only open the EHR to schedule appointments or you're just the type that likes to see what the day holds, when you can choose to open the schedule at launch you can start your day faster, without extra clicks.
Sibling search -- the Appointment Book recommends siblings for appointments based on the last patient you searched for. PCC users will also be able to schedule multiple siblings at once!
Scheduling in PCC EHR is a simple, visual experience.
Do You Recall?
Pediatrics is unique in that for young patients, it's important to see them early and often! When your EHR has built-in recall tools, it makes contacting patients overdue for a visit that much more simple. These tools are small but mighty supports for your practice's revenue and the health of your patients.
If you want to contact patients directly, check out PCC's Notify and Broadcast Messaging tools -- they'll help you deliver a text or email message to your patients instantly, reminding them of their appointment, that they're overdue, or about your scheduling options.
Need a reminder about a complex patient or population? Reminders are great ways to use your practice's data to, for example, alert you when a patient is overdue for a well visit by a year, when you should check in on a patient's behavioral health plan, or reach out to patients with certain medications.
Whether you're searching for a new EHR or trying to better use the one you have, learning about your system's subtler features is a great way to understand all the ways your practice can optimize for time and convenience. Learning the inner workings of your EHR is a smart investment in your business, but believe it or not, many pediatricians often make the mistake of not doing their homework to help their practice grow. Need a refresher on your assignments? Check out Chip Hart's advice in the second of his Pediatric Business webinar series, designed to help you keep evolving as a business owner and pediatrician.