In the telemedicine era, more and more patients are interacting with their doctors via telehealth technology.
According to Fortune Business Insights, while the market was worth only $41 billion in 2018, with the impact of COVID-19, they predict it will grow to over $396 billion by 2026. So not only are virtual appointments more commonplace, but they're becoming essential to the modern healthcare field.
This shifting reality brings up a tricky new question for medical professionals: what constitutes good bedside manner when it comes to virtual appointments? According to mHealthNews, "desktop manner is the new bedside manner," so knowing how to navigate a virtual healthcare appointment can be a game-changer. Even the best physician can lose their patient if they can't connect and engage with them through a screen.
Feeling empathy toward a patient and being able to show empathy are two different things. So how can you learn to project a caring and genuine demeanor during a virtual visit? And why is this skill integral to your success as a modern telehealth provider?
Why is Virtual Bedside Manner Important?
The best bedside manner will cultivate a patient's trust, and give them more of an incentive to follow your treatment plans. Basically, if your patients like you, they'll take your recommendations seriously.
Modern Healthcare references a 2014 study that shows how bedside manner statistically impacts patient health. It affects the incidence of obesity, asthma, diabetes, hypertension, and osteoarthritis. It can also affect a patient's ability to lose weight and maintain blood sugar levels.
According to Dr. James Tulsky of the Dana-Farber Cancer Institute and Brigham & Women's Hospital, "Patient experience drives quality. That is what is expected by people. The thing that will affect their sense of having a good experience is their sense of a clinician whom they believe understands what they're going through. That's the definition of empathy."
In a nutshell, increasing your empathy increases your value in your patient's eyes, making them much more comfortable during the visit. And with demand for online appointments at an all-time high, it's crucial that you know the ins and outs of virtual etiquette.
9 Telemedicine Bedside Manner Tips
Effective bedside manner conveys that you're truly present and interested in a patient's well-being. Good bedside manner imbues your interactions with a sense of professionalism and reassurance. And poor bedside manner can leave a patient with the impression that you are withdrawn, uncaring, or aloof.
Here are 9 tips compiled from Medscape and Orbit Health for how to succeed in—as telehealth provider American Well likes to call it—"webside manner."

1. Introduce yourself
Tell your patient a little about yourself and what they can expect during the appointment. If you don't start this way, your patient can feel confused, or disconnected from you as a person. On the flip side, don't end the appointment abruptly and turn off the camera. Make sure to leave time for questions at the end of the session to give your patient time to process the appointment.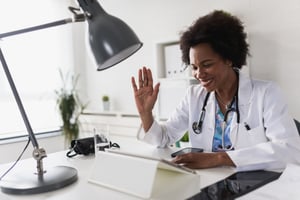 2. Show your empathy outwardly
This can mean showing compassion, helping calm fears, and providing hope when serious medical conditions arise. Even simple nods and understanding glances can go a long way to make the appointment feel more meaningful.
3. Maintain eye contact
This is different via technology than in person. You will need to look into the camera on your computer and not at the patient's image on the screen. Looking at the image can make you seem distracted or disconnected, which can lead to misunderstandings with your patient.
4. Be aware of your surroundings
Ensure the room you're in is free of clutter, and that your lighting lets your patient see you clearly. Even the smallest distractions can detract from the professionalism of the appointment.
5. Communicate clearly
Explain what you are doing. If you're going to look away to read the chart, tell your patient what you are doing so they know you're paying attention to them at all times.
6. Get comfortable with the technology
When you know the ins and outs of your virtual appointment technology, you'll come across as far more competent and prepared. You'll also be able to help the patient at the other end with their technology if needed.
7. Pay attention to your body language
Make sure what you are saying with your body aligns with what you are saying with your words. Nonverbal communication becomes more of a focal point when you need to zoom a camera in on your face. Try to stay relaxed and comfortable. Be kind, warm, and aware of your expressions. On camera, a furrowed brow can come across as angry, even if you are just thinking. A smile and laughter will increase the bond between you and your patient. Even your posture plays a major role. Slumping conveys disinterest, leaning in too close to the camera can look intimidating, and leaning back too far can mimic disinterest.
8. Avoid side conversations and phone calls
Anything that distracts you from your patient desensitizes the appointment and makes your patient uncomfortable.
9. Don't interrupt
Remember that a video delay can cause you and your patient to unintentionally talk over each other. Practice active listening. Repeat back what your patient says so that they feel heard and validated.
The telehealth market is bigger than ever, and it's not dying down any time soon. So as the usage of telehealth platforms continues to expand, use these simple techniques to elevate your patient's experience and give them the care they deserve.