Good companies know that team-building is important to a strong workplace culture. Fostering relationships between colleagues allows for better communication, improves morale, mitigates conflict, and builds trust. Strong relationships are the core of everything we do at PCC, but our team takes pride in doing things just a little bit differently. PCC employees fan out into the community twice a year to volunteer, learn, build, and explore, enabling growth among our teams to better serve and empower our clients. Come with us on a PCC Fun Day!
There are two team-building annual events at PCC. Made official in 2000, "Fun Day" takes place in the autumn and is a chance for PCC employees to come together for food, fun, and Vermont's wonderful foliage. In the spring, PCCers celebrate the end of winter by trying their hands at something new with "Creation and Discovery Day", where they have the opportunity to learn new crafts, improve skills, or volunteer in the community.
At PCC, we believe that it's important that employees have the chance to grow as humans as well as pediatric EHR specialists. As PCC has grown from a handful to a hundred employees, we have had to get creative to ensure Fun Days are engaging for everyone (without overwhelming small local businesses with one hundred excited developers, designers, business analysts, and many more!).
That's why in a given year, you'll find PCCers learning from local Vermont experts on topics like rock climbing, basket weaving, trail riding (above left) stained glass-making, fishing, hiking, painting, cooking (above right), and much more. We're proud to support the experts in our local community and enjoy local restaurants as a team.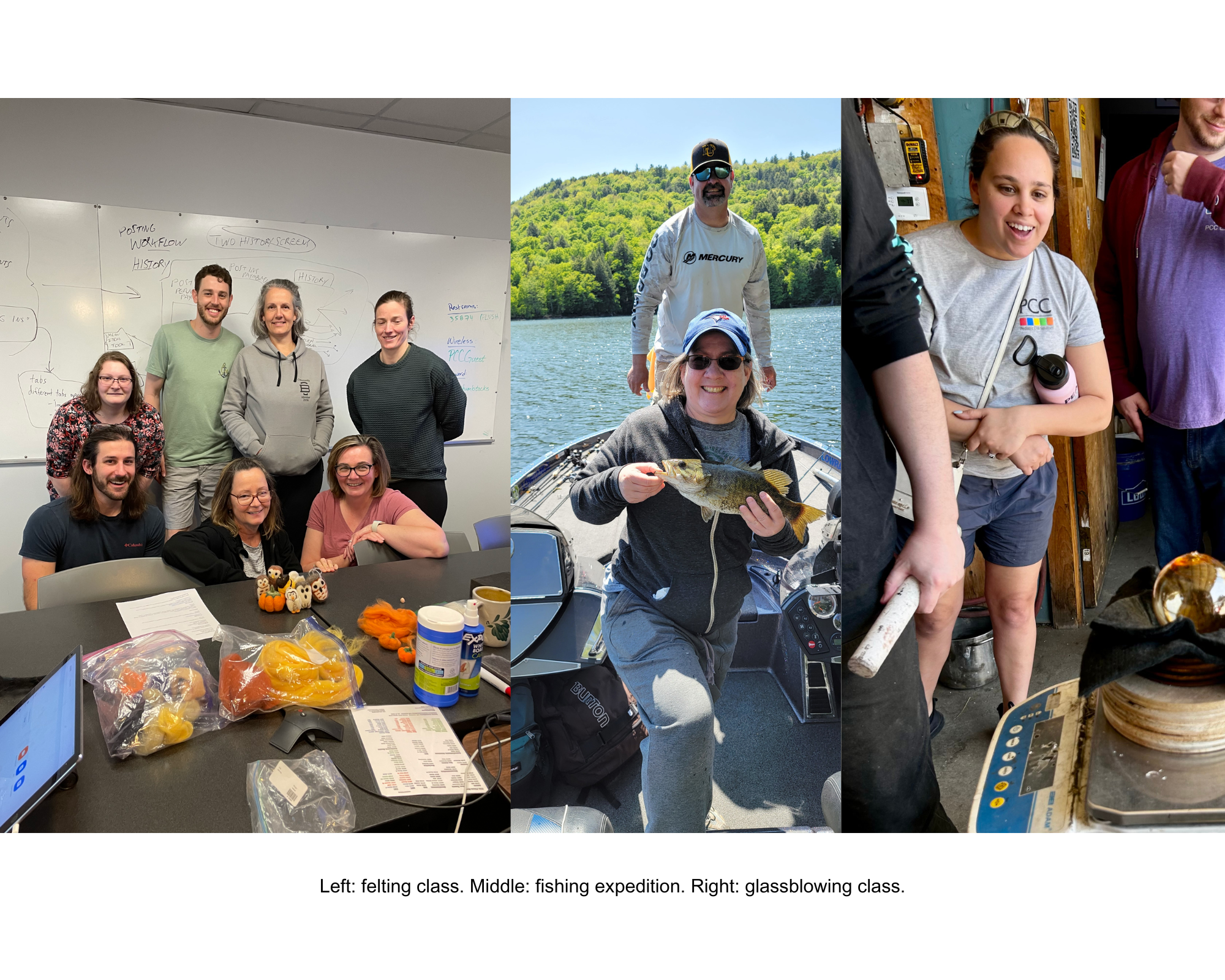 PCC takes pride in supporting the community and our office culture with many fun moments and togetherness all year. What makes Creation & Discovery and Fun Days so special is the chance to share and renew PCC values: values of fun, humor, learning, and community.
Paint and sip class.