Interoperability is a term that is appearing more and more across the entire healthcare industry. According to the Healthcare Information and Management Systems Society (HIMSS),
Interoperability describes the extent to which systems and devices can exchange data, and interpret that shared data. For two systems to be interoperable, they must be able to exchange data and subsequently present that data such that it can be understood by a user. In healthcare, interoperability is the ability of different information technology systems and software applications to communicate, exchange data, and use the information that has been exchanged.
In short, it's the ability of one system to work with another. Interoperability is appearing as a buzzword everywhere these days due to the many advances in the technology that supports it. However, while many entities and organizations already exchange data, many others remain incompatible. Standardization of technology will be an increasingly important theme in the push to bring interoperability to all sectors of healthcare.
You might wonder if something so technical is relevant to you and your practice. The answer is yes. Interoperabilty continues to grow in importance each year. In fact, the Centers for Medicare and Medicaid Services (CMS) have updated their EHR Incentive Programs to focus on Promoting Interoperability. Most EHR vendors already have features and functionality that are based in interoperability and are developing more all the time.
What does this mean for independent pediatric practices? Whether you know it or not, you're already enjoying the benefits of interoperability. How does it improve your workflow?
Benefits of Interoperability
Interoperability provides more efficient access to data – time and resources are saved when information can be accessed digitally and in real-time.
Interoperability leads to safer transitions of care – medical records can travel with a patient when they move.
Interoperability produces better patient outcomes – if you receive data quickly and efficiently, you have more lead time to prepare for the appointment and can therefore offer better treatment.
Interoperability reduces costs – for example, when interoperability allows you to connect to patient's history in an immunization registry, you will avoid over-vaccinating or giving duplicate vaccines.
How are EHR vendors interoperable today?
When looking for an EHR vendor, it's important to make sure you'll get the features you need, some of which utilize interoperability.
With a vendor like PCC, there are 4 key clinical areas where interoperability shows up:
Immunizations

Direct Secure Messaging

eLabs

eRx
Immunizations
The first benefit here is that pediatricians have the ability to see immunization forecasting results and warning in the EHR.
Why does this matter to pediatricians? It helps keep patients on the recommended schedule with vaccines, and prevents over-immunizing or administering vaccines prior to minimum intervals.
Here's a snapshot of what the interoperability process looks like to make that happen: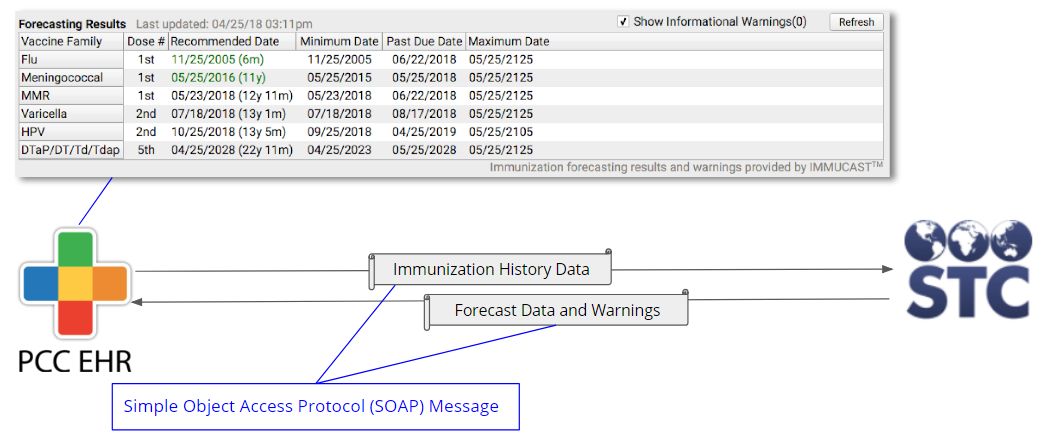 In order for results to appear for the provider's use, the EHR has to send patient immunization history data to STC, the entity that then sends forecast data and warnings back to PCC EHR. This two-way data exchange happens via a Simple Object Access Protocol (SOAP) message, the standard for exchanging information online.
Next, interoperability is involved in sharing immunization information with state Immunization Registries. PCC has connections with 30+ registries across the country. Information such as VFC, dose, lot, and administration route all get passed between PCC EHR and the state registry.
Why does this matter to pediatricians? A great time-saver, PCC EHR can receive and display acknowledgement messages to the user so they can proactively check on the status of immunization data and correct any errors. Prior to this ability, a pediatrician would have to remember to log into the immunization registry portal and check for errors there, or just wait for the registry to let them know. Interoperability has greatly improved the workflow with this.
Direct Secure Messaging
Direct Secure Messaging (DSM) is a process that allows messages and files to get sent to and received from a third party. What kind of things are we talking about?Often this will be a Continuity of Care Document (CCD) which is a type of document written according to the Consolidated Clinical Document Architecture (C-CDA) standard.
Why does this matter to pediatricians? DSM is a form of interoperability that provides the means to securely and efficiently share clinical records. It saves time and resources that would otherwise be spent mailing, faxing, or scanning documents. It increases the amount of information available to pediatricians, as documents received from other providers can be reconciled and inserted into the patient's chart.
Additionally, Meaningful Use 2 requires that 10% of referrals be submitted electronically for providers who send greater than 100 referrals, and DSM satisfies this requirement.
eLabs
An EHR that is truly interoperable can do things like receive eLab results. With PCC EHR, results are securely sent from various labs through a 'Clinical Hub' that processes the results and sends them to the EHR. The EHR will automatically enter the lab results into the patient chart. Here's what the process looks like: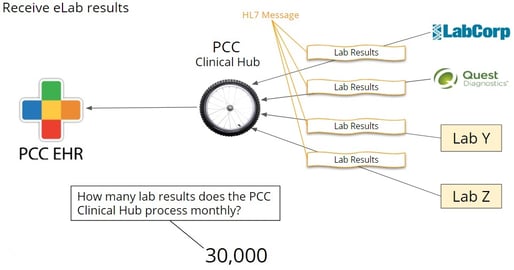 Why is this important to pediatricians? A connection to a lab saves practice resources. With the correct configuration, results are directly imported into the EHR. Additionally, this workflow reduces the transcription errors that can arise when results are entered manually from a fax.
eRx
ePrescribing (eRx) is another function that utilizes interoperability. For example, some of the interoperability processes involved in creating a prescription include:
sending formulary information and medication history
identity verification for EPCS
requesting and receiving medication history from pharmacies and payers
prescription validation
prescription delivery confirmation
renewal requests
Many of these processes require interfaces with third party software, and behind-the-scenes interoperability is what makes this possible.
Why is this important for pediatricians? ePrescribing saves on needing paper prescription pads and it increases patient safety by helping to prevent drug abuse and prescribing errors. It's also quick and easy, so it saves time for all involved.
Interoperability Best Practices
To hear some tips and tricks for best practices, we sat down with Jennifer Marsala, one of PCC's Business Analysts (BA). She works on a team that focuses on bringing interoperability into PCC EHR. Here's some of her advice for making interoperability work for you:
Make sure your data is clean
On this point, Jennifer says, "Assume anything you enter in the EHR is going to be shared - if not today, then in the future. With interoperability being the way things are going, you've got to have clean data so that it can be used by whoever it ends up going to."
Why does this matter to pediatricians? Jennifer gives an example related to immunizations:
"Sometimes even with all the interconnectedness, you still don't realize that not putting data in one place can lead to something negative happening somewhere else."
Here's a frequent scenario: a new patient comes in and their name and date of birth get put into the EHR, but an account is not assigned yet, so no address or custodial information gets entered. The patient goes through the visit and gets immunizations while they're there. The EHR sends the immunizations data to the registry, but because an account has not been assigned, when the registry receives the partial patient information, they reject the data. Not all registries will allow you to resubmit the information - sometimes you have to do a whole new submission. If the data was 'clean' and complete from the beginning in this scenario, a lot of time and effort would have been saved. One thing effects another when it comes to interoperability."
Check for typos
Make sure you check everything you enter into the EHR for spelling errors. Something as small as a typo or a misentered lot number can cause a rejection.
Look for missing information
When information is missing, it can cause errors when two interoperable systems are trying to 'talk'. Jennifer uses the following example:
"If you are missing up-to-date demographic information and you use a program like Notify for appointment reminders, the reminders might not go out because of the missing information. In that way, you lose your effectiveness.
"It's the same for eligibility. If you reach out to payers with the wrong policy information or address, that's going to delay getting the right information back."
Eliminate transcription errors
On this point, Jennifer shares, "If you don't have a connection with your local lab and you're getting eLab results by fax and have to manually enter them into the EHR, there's a good chance for transcription errors. So that's a good reason to establish a connection with your local lab. Having an electronic connection saves time and reduces errors.
Don't use discrete data fields creatively
This is an important point. Some practices have their own internal uses for discrete data fields and everyone in the practice knows what it means. Jennifer says, "What works for your practice might be confusing and create problems for a third party looking at that data."
Enter complete and accurate immunizations data
When it comes to entering immunizations data, Jennifer says it's very important to be complete. "Make sure you enter the manufacturer, the lot numbers, etc. If you do VFC and there are errors in your immunizations data, the immunizations registry could withhold a shipment. Usually practices won't even be aware of errors, so it's a surprise when all of a sudden an expected shipment doesn't show up. Then they have to take the time to call and correct the issue, inventory gets behind, and time is wasted."
Interoperability is the Future of Healthcare
Jennifer stresses the importance of understanding interoperability and knowing the best practices for a smooth workflow. Done right, interoperability can save time and increase access to information at your pediatric practice.
Jennifer says:
"Interoperability is the way of the future. Going forward, there's only going to be more and more data shared with different entities. It's not limited to one particular area - it's all kinds of things including immunizations registries, HIEs, eLabs - everyone wants and needs data, so it needs to flow out and be received back. There's a strong trend toward more and more interoperability. It's the way things are going to be done."